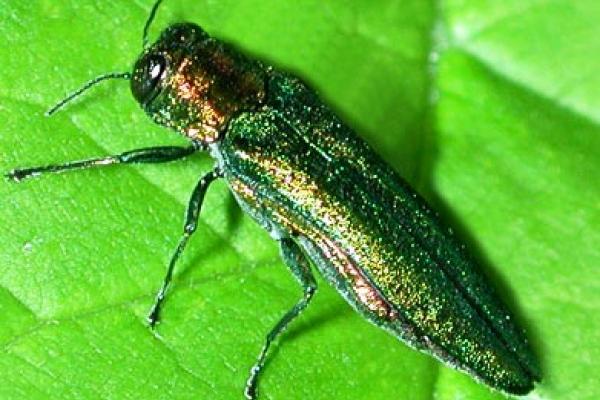 Currently known to be in 35 states, The Emerald Ash Borer (EAB) is an invasive forest pest that
devastates North American ash trees.  EAB was found in Vermont in 2018, and poses an imminent
and existential threat to Vermont's three native species of ash. This invasion poses costly and
confusing challenges to landowners, municipalities and Vermont's forest ecosystems and raises
many questions: how should we manage the ash trees in our woods, yards and streets in light of the
threat that EAB poses?
Join Ethan Tapper, the Chittenden County Forester, Elise Schadler of Vermont's Urban and
Community Forestry (UCF) program, Vermont Woodlands Association and Vermont Coverts for a
free, public walk at the Hinesburg Town Forest (HTF), where we will discuss how to manage our
forests, yard and street trees and public lands for the threat of EAB. This will also be an opportunity
to visit an active timber harvest at the HTF, supervised by Tapper, and discuss the role active forest
management can play in creating healthier, more diverse forests in response to EAB and additional
threats like climate change. We will also discuss the implications of EAB on our public spaces and
recreational resources.
To attend this walk, meet at 1:00 PM on Saturday, February 8 at the plow turnaround at the end of
Economou Road, Huntington. This walk will happen "rain (snow, mud) or shine." Participants
should be ready to spend a couple hours outdoors walking over uneven and potentially slippery
surfaces in whatever weather we find ourselves in, and also to spend extended periods of time
standing and talking. Please bring an open mind, warm clothes, and questions about EAB, logging
and forest management.
The HTF is an 864-acre forest owned by the Town of Hinesburg and managed for wildlife,
recreation, water, air, carbon sequestration and as a site for the demonstration of modern,
responsible forest management. For more information on the HTF, visit
http://www.hinesburg.org/townforestcomm.html