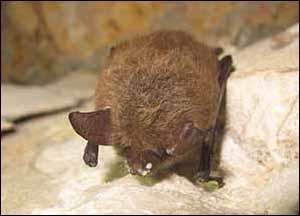 Did you know that 1 out of every 4 mammals in the world is a bat? That over 50 million years of evolution have gone into shaping the exotic shapes and behaviors exhibited by bats? And that of the 9 species of bats currently known to inhabit Vermont, over half are listed on either state or federal threatened or endangered species lists?
In anticipation of Bat Week (Oct 24-31), come join us at the National Park to participate in an interactive presentation by NPS biologist Adam Kozlowski designed to raise your awareness of bat species (local and global alike) and the specializations that make them both so fascinating and misunderstood. During his hour-long presentation, Adam will provide an overview of bat ecology, physiology, and mythology to help us better understand the threats bats are facing, delve into the world of both echolocation and hibernation, and review local species and the characters that make them who they are.
Join us on October 19th from 10-11 AM at Forest Center, Marsh-Billings-Rockefeller NHP, in Woodstock VT. Parking is available in the Billings Farm & Museum overflow lot, located on Old River Road.
This is a free event, but please pre-register as space is limited. To register or learn more call
(802) 457-3368 x 222, or email us at leah_marshall@partner.nps.gov. Be sure to tell us how many are coming.