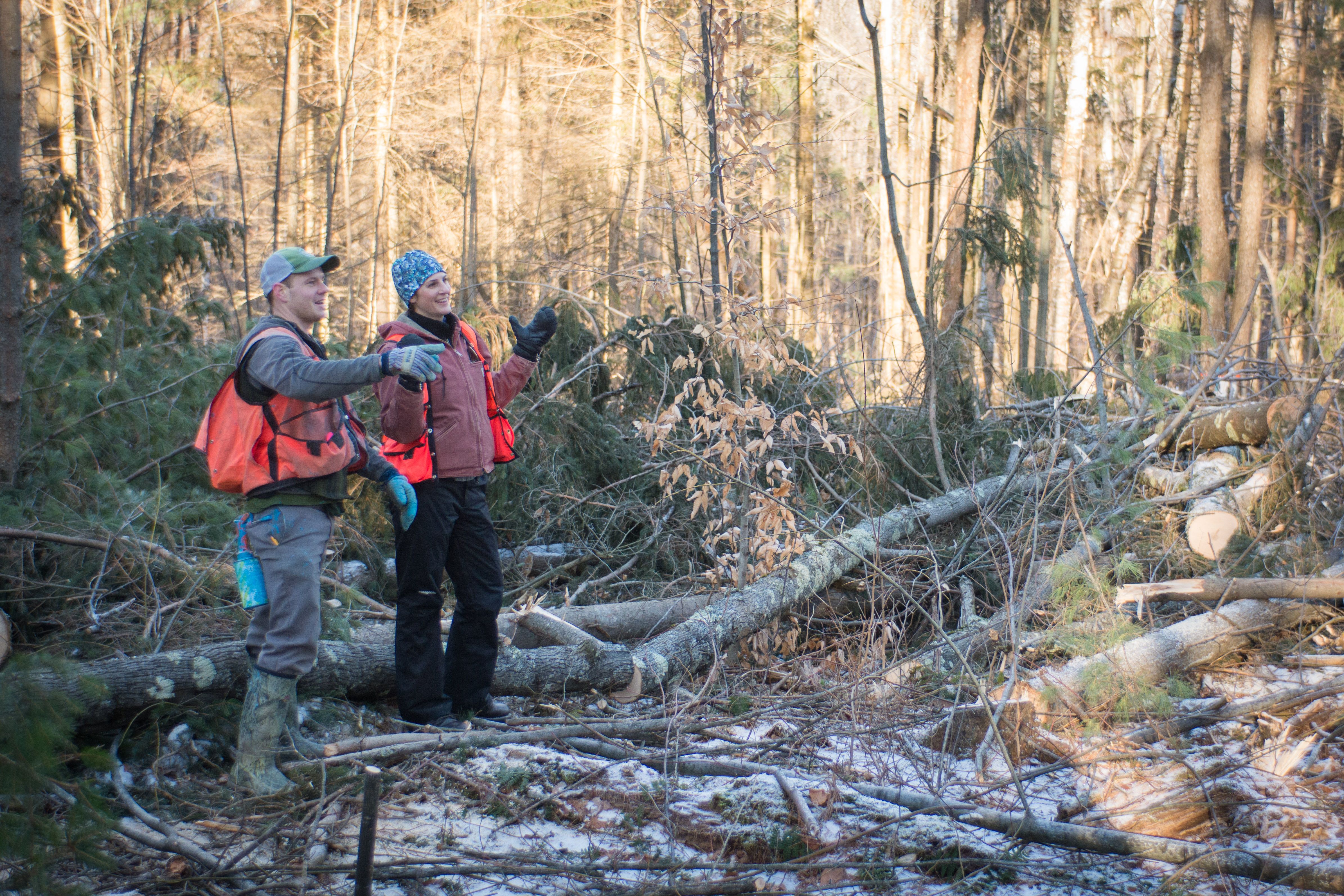 Join us from 1:00 – 3:00 pm on Sunday, November 3rd at the end of Economou Road in Huntington for a walk of active forest management at the Hinesburg Town Forest with Chittenden County Forester Ethan Tapper. Attendees should be prepared to spend two hours outdoors and for light walking on uneven terrain, rain or shine. 
Forest management on the Hinesburg Town Forest (HTF) will continue this winter with multiple walks to showcase the activity. This activity, which began in winter 2018-19, will include the strategic harvesting of trees, designed to increase species and structural diversity in the forest, improve wildlife habitat, capture economic value in mature and declining trees and encourage the growth and development of a healthy forest. This harvest will also seek to improve the resilience of the HTF to climate change, natural disturbances, and the invasion of exotic pests such as the Emerald Ash Borer (EAB). A major objective of this work is to demonstrate modern, responsible forest management in an open, transparent and inclusive way, with the goal of improving public understanding of forest management and the quality of management on privately-owned forests. The operation will be administered by Chittenden County Forester Ethan Tapper, working in concert with the Hinesburg Town Forest Committee.
 In addition to demonstrating responsible forest stewardship, this operation will showcase Vermont's working landscape and the sustainable production of local, renewable resources. Hinesburg logger Tim Brown will cut the trees marked by Tapper over the next two winters, shipping most of the forest products to local markets. Income generated from the harvest will be used to promote stewardship projects on Hinesburg's two Town Forests, the HTF and the 301-acre LaPlatte Headwaters Town Forest, including trail maintenance and invasive species control.
The HTF is an 864.5-acre forested parcel owned by the Town of Hinesburg and with trailheads on Economou Road, Hayden Hill Road East and Hayden Hill Road West. Comprised of abandoned and tax-derelict old hill farms aggregated by the Town from the 1920's-1950's, the HTF is one of Vermont's oldest and most storied municipal forests and has been listed on the National Register of Historic Places. The HTF is a multi-use public resource, with a long and rich history of forest management, hunting, and other recreation coexisting on the property.
The 2012 Management Plan for the HTF, with the 2017 Forest Management Plan attached, can be found on the Hinesburg Town Forest Committee's page of the Town of Hinesburg's website at http://www.hinesburg.org/townforestcomm.html 
For more information on the HTF, the upcoming forest management or upcoming public walks and opportunities, contact Chittenden County Forester Ethan Tapper at ethan.tapper@vermont.gov or (802)-585-9099.
Public invited to participate and learn about active forest management 
This walk is sponsored by Vermont Woodlands Association, Vermont Coverts, Audubon Vermont, and Woods Wildlife and Warblers.