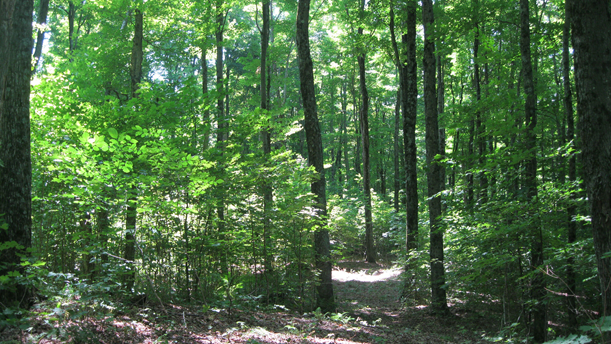 The annual Vermont Forest Health Information Meeting is scheduled this year for Thursday, April 18th.  It will once again be held at Woodstock Union High School. (See meeting agenda)  If you have any questions please contact Josh Halman, Forest Health Specialist.
The following reports are also available for downloading:
The 2018 Forest Insect & Disease Conditions in Vermont is a detailed report with maps showing results of aerial detection and invasive pest surveys, ground survey data summaries, and a comprehensive list of tree health problems that were reported last year. A printed version of this report will also be available. To obtain a copy, please email Jenny Lauer or call 802-828-1531.
A briefer summary of  2018 Vermont Forest Health Highlights is also available.
During the growing season, we'll continue to distribute regular updates on forest insect and disease observations. If you see something we should include, let us know. Trish Hanson compiles those updates.
EAB Update
Please take a few minutes to complete an FPR survey about Emerald Ash Borer (EAB). When EAB was confirmed in Vermont in 2018, a group of state and federal partners developed and launched the "Slow the Spread" effort to guide Vermonters with recommendations on how to reduce the risk of unnecessarily spreading EAB to uninfested areas. One year later, we would like to learn about how well those recommendations worked for the user groups they were developed for and make any adjustments, if necessary, prior to the next EAB flight season. Leaarn more about EAB and Vermont's Slow the Spread recommendations at www.VTinvasives.org/EAB
Please complete the survey by May 1, and if you have questions or need assistance, please email Jenny Lauer or call 802.828.1531.