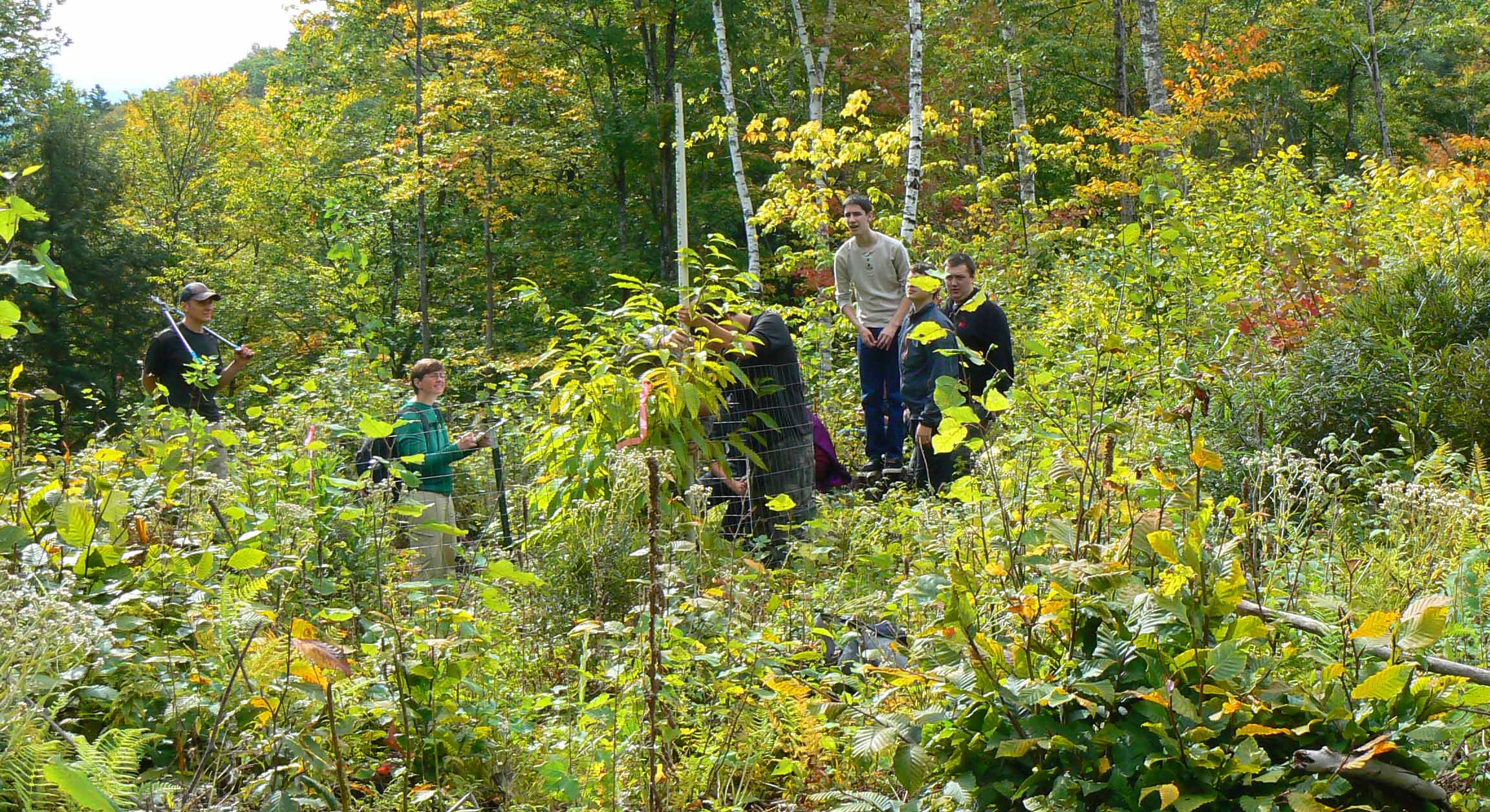 American Chestnut Trees
In the spring 2016, the five members of the Fairlee Town Forest Board, along with the town's consulting forester, Markus Bradley of Redstart Forestry, and Dr. Kerry Browne and Rachel Sanders, science instructors at Rivendell Academy in Orford, NH, acquired 21 potentially resistant American chestnut hybrid seedlings (B3F3). They were provided by Yurij Bihun, President of the Vermont/New Hampshire Chapter of The American Chestnut Foundation.
Bradley, Dr. Browne, and Ms. Sanders met and developed a lesson/planting program, and the Rivendell freshman science class enjoyed a day-in-the-woods lesson while planting the seedlings in three clear cuts at the site of a recent logging operation in the Fairlee town forest.  Each year, the sophomore science class and instructors, members of Redstart Forestry, and members of the Fairlee Forest Board meet to release and measure the trees.  The resulting data is charted and submitted to the national office of The American Chestnut Foundation.  The first year of follow up measure and release was conducted by the same group of students -now sophomores – who had planted the seedlings, and most of the students remembered which trees they had helped to plant; they were very proprietary about measuring and releasing "their" seedlings.   The 2018 follow up was a very satisfying one for the group, as some of the trees had put on growth spurts which made measuring heights a bit of a challenge. To date, all 21 trees have survived and are thriving.
Prior to the hands on portion of the project, Markus Bradley leads a classroom science lesson which explores the history of the American chestnut, the effects of the chestnut blight, and some of the basic science associated with the restoration project.
Chestnut Day in the Fairlee Forest is becoming a much anticipated and popular lesson for the students as well as the instructors and other adults who attend.   The class begins the day with a hike of about a mile to reach the chestnut landing, and the hands-on tasks begin.  The student groups complete maintenance and measuring tasks and make any needed repairs to the enclosures around each tree.
After a short lunch break, the students head back out into other areas of the town forest for an afternoon of entry level Forestry 101 presented by members of Redstart Forestry.
The Fairlee forest board will be receiving chestnut seeds from The American Chestnut Foundation in 2019.  These seeds will be given to elementary school students at Rivendell who will attempt to get the seeds to germinate and develop into seedlings, which will be then planted to become part of the Chestnut project in the town forest.