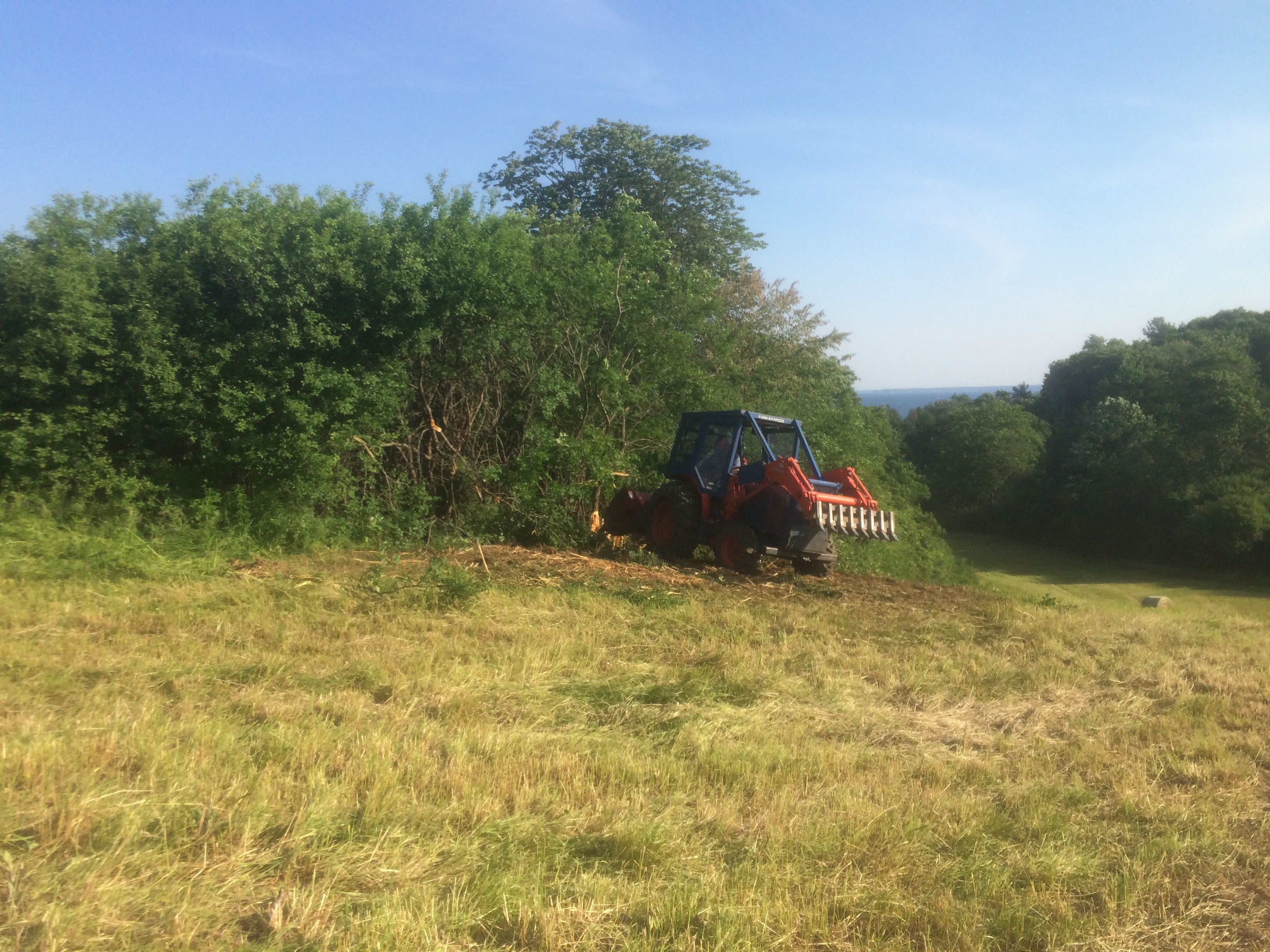 Experiences with Non-Chemical Control of Woody Invasives
Gerry Hawkes || Forester and Inventor || March 2017
Experiences with Non-Chemical Control of Woody Invasives
Over the past 15 years, experiments with the non-chemical control of woody invasives have resulted in effective mechanical and flame treatment methods that, in most cases, are cost competitive and produce quicker, more attractive results than herbicides.
Cutting and shredding woody invasives is the most cost effective mechanical treatment method. However resprouting is usually rapid and vigorous. If the shredder shatters the stumps rather than cutting them cleanly, the resprouting is somewhat slowed. If the shredder tills slightly into the ground, resprouting is slowed somewhat more. Cutting and shredding woody invasives flush with the ground is the best way to reopen abandoned pastures and overgrown field edges so they can be regularly mowed by conventional tractors, keeping resprouting in check. Uprooting and shredding greatly reduces resprouting. The holes left by the extracted stumps are filled in and smoothed as the shredder grinds the stumps and brush into coarse mulch. The smoothed, tilled ground provides an excellent seedbed for replanting desired trees, shrubs, wildflowers, or grasses.
Where the terrain is just too steep, rocky or wet to access with a mechanical treatment method, a 4 million BTU/hour flame treatment system has been developed. So far it has proven quite effective for foliar flaming of invasive barberry, multi-flora rose, and honeysuckle. Foliar flame exposure is rapid and just has to be enough to rupture the cells in the leaves on the first treatment. That exposure kills the tops of these invasives which will slowly resprout from the base. About a year later a second flame treatment can ignite the dead tops and kill the resprouts. After the second treatment, resprouting is minimal, but annual checking and follow up treatment where necessary is advised.
Flaming is a very effective way to knock down dense stands of knotweed, but unfortunately it vigorously sprouts right back. A downside to foliar flame treatment is that it must be done when it is rainy or damp. A heavy dew provides sufficient dampness, but even with a heavy dew, foliar flaming must often cease by 10 a.m. on sunny days. Plans are to experiment with basal flaming on a variety of woody invasives during the dormant season which may allow effective flame treatments even when there are a few inches of snow.