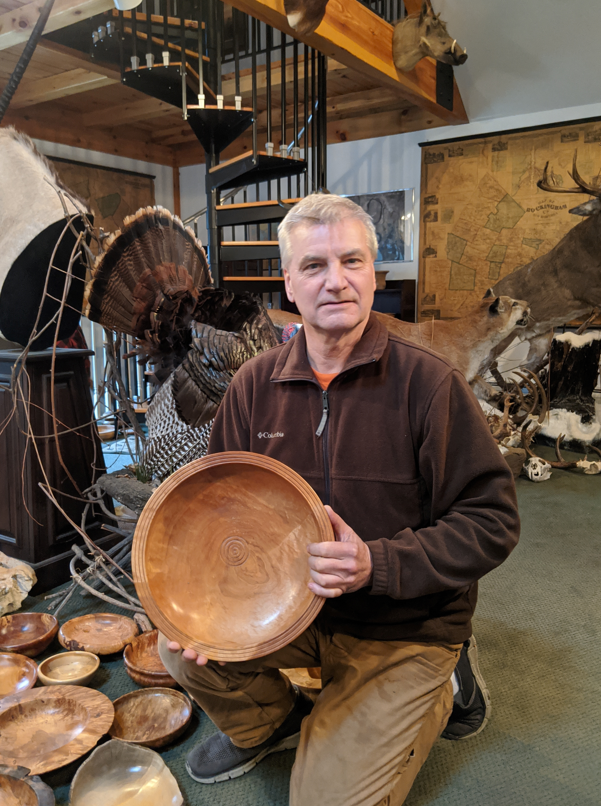 Roscoe Blaisdell: Understanding the Forest
Roscoe Blaisdell is the owner of several thousand acres of forestland in New Hampshire and Vermont. Roscoe is a land surveyor who lives in Raymond, NH where the majority of his forest land is located. His Vermont acreage is in Ryegate, VT. The properties in both states have been enrolled in the Tree Farm Program since the 1990s.
When it comes to Roscoe's properties, the main goal of his management is to improve the land for wildlife. When implementing management practices Roscoe looks at them through the lens of how they will help wildlife. Some of these practices include prescribed cuts that help foster the improvement of species in an area and installing food plots to attract deer. Through his management he has found success in this goal through the years with certain species returning to his woodlands. One example is the prevalence of moose on his New Hampshire property. Being located in southern NH where moose are not as prevalent this was an exciting development on the property.
The focus on wildlife has created a symbiotic relationship in certain respects too. For instance, on his NH property after a cut the deer and moose on the land ended up eating the saplings of trees that Roscoe did not want to grow, such as red maple, while at the same time left the saplings of white pine trees which he did want to grow. Afterwards it looked like a planted pine plantation, with the moose doing most of the work. The management helps the wildlife, and the wildlife helps in return.
Timber is another goal for his land. When ecologically permittable and/or necessary Roscoe performs timber harvests on his properties. He takes care that the timber will be good when harvested. For instance, on his property in Vermont Roscoe spent years pruning white pines so that they would grow clear lumber. After many years the lot was ready and when it was harvested the loggers told him it was some of the best timber they had ever worked. He has performed cuts for timber stand improvement (TSI) and cost share purposes in the past also. Roscoe's properties are also enrolled in Vermont's and New Hampshire's Current Use programs which help keep costs down and guide the management of his properties.
Forest upkeep is another goal of Roscoe's land. Having a good road and trail system is important to him since it keeps the forest "tidy" and lessens disruption of habitat. The primary way he does this is by maintaining already established roads in the forest as well as staying away from parts of the forest at certain points of the year when travel conditions are not great. Roscoe is highly involved in forest and wildlife organizations which enables him to bring a wealth of knowledge on these topics for his properties and the lands he works on for others. Apart from being a surveyor, he is a wetland scientist, septic system designer, and has an associated degree in forestry. He refers to himself as a "weekend forester" which helps him install management practices to his land under the guidance of a consulting forester. Apart from VT and NH Tree Farm, other forest groups he is a part of are the Vermont Woodlands Association and New Hampshire Timberland Association. For wildlife-focused groups, he is a member of NH and VT Coverts organizations which provide education on
woodland and wildlife stewardship that is designed to be shared with others to promote healthy forests and wildlife. He is a member of Quality Deer Management Association (QDMA) which promotes sustainable, quality deer populations, wildlife habitat and ethical hunting experiences. He is also a measurer for a local trophy animal club in NH.
When it comes to the challenges of managing his properties Roscoe listed invasive species and trespassing as the two difficulties he faces most often. On his VT property he has encountered invasive plant species which he usually treats with herbicide to stop their spread. Trespassing on his properties comes in the form of trucks and ATVs that either unwittingly or knowingly go on the roads on his property during mud season. This is more of an issue on the NH property since it is a more populated area than the VT property.
Having the unique position of owning forest land in two different states, Roscoe said that
in general the forests are similar. However, the tree species that make-up the forests are a bit
different, and the VT property grows timber better than the NH property does. Being situated in
the Connecticut River Valley the Ryegate forest has some good soil with which to grow great
timber. The NH forest's soil is rockier which limits the forest's growth.
Roscoe's experience in the forest industry and involvement in many organizations has taught him much about forests, wildlife, and how to care for them. "Many people don't understand the forest, but it is nice to get out and see nature," said Roscoe. Forests are a source of enjoyment, recreation, and inspiration for people. They are also a resource for energy needs and timber-based products. Roscoe feels people don't understand that forests can be used because they come back after cuts. Educating others on all that forests offer is something he seeks to do in his work and involvement.