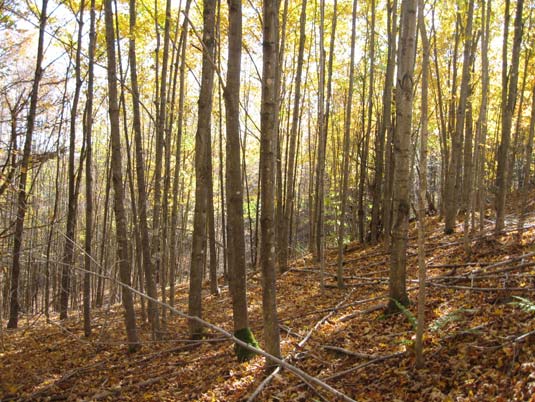 Required Filing for Current Use Enrollment: eCuse
On September 23, 2020, the Department of Taxes mailed out postcards (see below) to the owners of the 6900 parcels that are required to submit an Annual Agricultural Land and Buildings Certification to be eligible for enrollment in the Current Use program for the 2021 tax year. A postcard was sent for each SPAN that needs to have a certification completed, so owners of multiple parcels will receive multiple postcards.
Due to a variety of factors, landowners are being directed to complete and submit the form using the online submittal system, eCuse. The postcard contains the SPAN and OID needed to start the certification in eCuse. If the landowner is unable to complete the form in eCuse, the landowner should contact the Current Use program.
Unless the consulting forester has a Power of Attorney for the landowner, they should not to "sign" the form. The Department of Taxes considers this a tax return and the landowner is required to certify to the use of the land.   **********************************************************************************
IMPORTANT: Required Filing for Current Use Enrollment 
Annual Agricultural Land & Buildings Certification for 2021 Tax Year 
This postcard is your official notice of the requirement to file your annual Agriculture Land and Buildings Certification to continue their enrollment in the Current Use Program (per 32 V.S.A. §3755). This action must be taken by November 1, 2020. Failure to do so may result in your agricultural land and buildings being withdrawn from the program.
What do you need to do? Create an account at https://secure.vermont.gov/TAX/ecuse/. Use the online process to complete and submit your certification using your Owner ID (OID): xxxxx yy and SPAN XX-XX-XXXXX. If you are unable to submit the form online, you should contact the Current Use Program at (802) 828-5860 or tax.currentuse@vermont.gov for further instructions.
You must submit a certification for each SPAN that has active agricultural land or buildings enrolled. You will receive an email acknowledging your submittal.
An Important Message to Consulting Foresters regarding Current Use reporting:
The Tax Dept. has sent out a large postcard to all landowners having land enrolled in the Active Agricultural category of Current Use concerning online reporting of the annual Ag. Certification. There is a problem for Consultants who have Power of Attorney though. You cannot use the online form due to a programming glitch in E-Cuse. You need to request a paper copy be sent to you, and file it by 11/1/20.  Landowners not computer savvy will need to do the same.  Call the Current Use program at 802.828.5860.