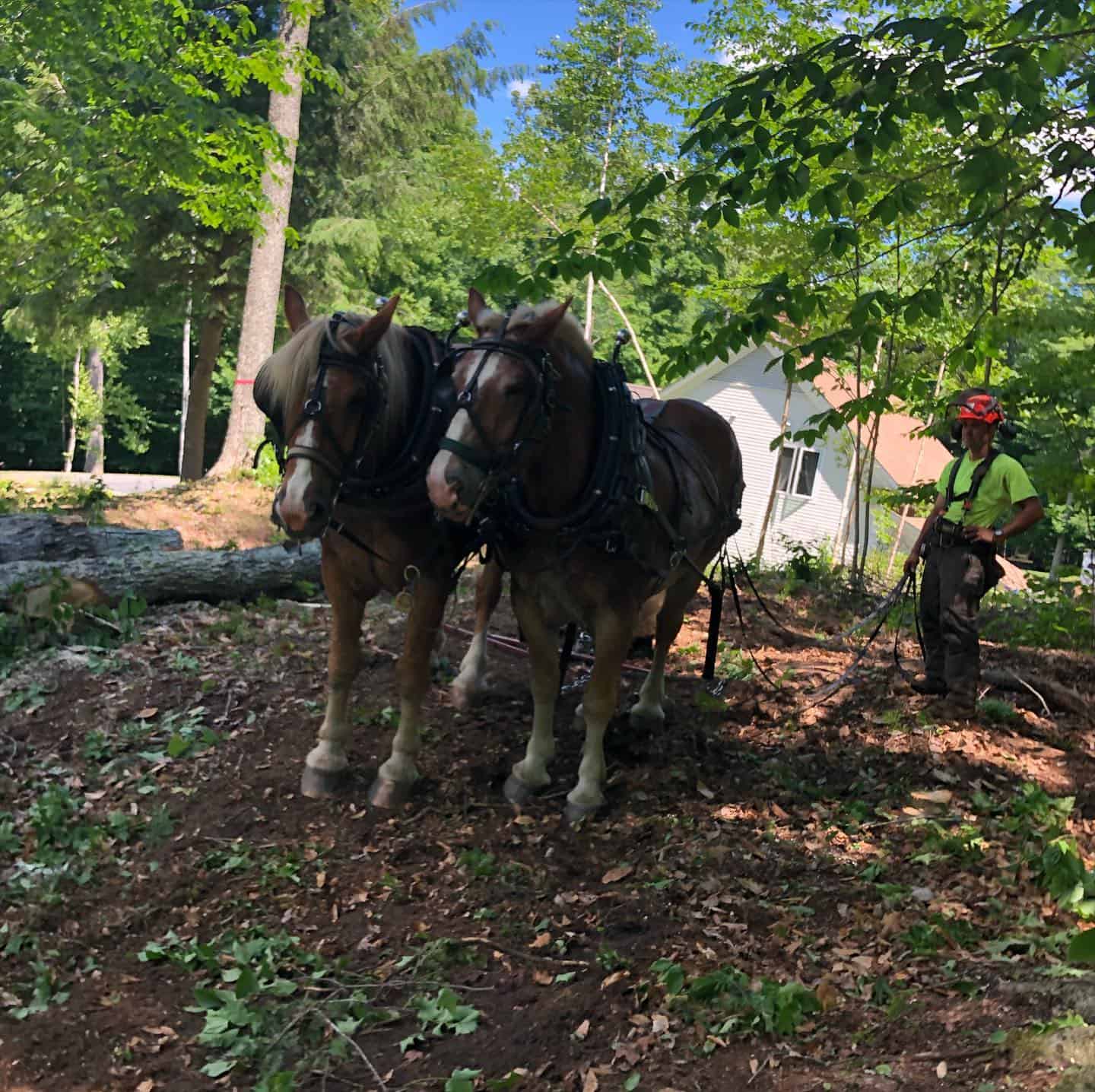 Saturday, July 24, 9 am – 12 pm
This tour will be a primer for woodlot owners, foresters, and loggers on how to put in and maintain access to meet multiple goals in a woodlot, including timber management, recreation, wildlife habitat, carbon sequestration/storage, and more. We will be examining in detail the economics of building quality trails, with particular emphasis given to the pros and cons of trail constructions as part of a timber harvest. Short- and long-term advantages/disadvantages of different types of trail construction will be highlighted, as we walk more than a mile of recently renovated woodlot trail built with a small excavator and tractor. This workshop is designed to provide useful information for owners, foresters, and loggers of all types, though we will be primarily focused on permanent trail networks that promote a truly low-impact approach to harvesting. Any interested members of the public are also welcome to come for a walk in the woods.
This is the first of four sessions hosted by Third Branch Horse Logging (TBHL). All sessions will take place at 652 Stony Brook Road in Northfield. CFE credits have been requested and are pending. We will be outside, rain or shine.  There is plenty of parking, but there is not an easily accessible bathroom facility on site, so folks should make pit stops on the way. Also, there is no cell service on the property, though participants are encouraged to bring a phone or other camera to take pictures of what they see during the tours. Everyone is welcome, but the walking will be uphill in certain sections.  Kids are encouraged to attend, but please leave all dogs and other pets at home.  Each tour will end at the saw mill so attendees can see how roundwood is turned into marketable lumber, and boards and slabs will be offered for sale.
There is no cost, but pre-registration is required. Click here to register for the tour.
Future tours:
Using Horses and Small Machinery in the Woods – Saturday 8/28/21, 9 AM – 12 PM
Carbon Planning As Part of A Woodlot Management Plan – Saturday 9/25/21, 9 AM – 12 PM
How Should Loggers Be Paid? – Saturday 10/16/21, 9 AM – 12 PM
Each tour will be led by Brad Johnson, Derek O'Toole, and John Plowden, the three partners in TBHL. The three are not licensed foresters but can offer extensive experience in positive impact timber harvesting, woodlot management, draft animal power, lumber milling, and the economics of logging in New England. Also, they have invited a number of foresters and loggers to join and provide their insights and perspectives, including Rose Beatty, Russ Barrett, Carl Russell, Ben Canonica, Bob Capobianco, Sam Brown, and Peter Hagerty.  The goal is to have one or more of them at each workshop.
Brad Johnson is a co-owner and operator of Third Branch Horse Logging LLP.  With a background in farming and logging with animal power, Brad brings more than 20 years of logging experience in the forests of Maine, New Hampshire, and Vermont.  Additionally, Brad is a former educator, teaching in the classroom and the woods of Maine before turning toward agriculture and logging work full time.  He and his family own and manage a 94-acre woodlot in Northfield, where they focus on multiple long-term management goals, including timber production, carbon management, wildlife habitat, recreational access, and more.
Derek O'Toole is a co-owner and operator of Third Branch Horse Logging LLP.  After a first career at sea, Derek and his family settled in Braintree and operated a horse-powered CSA for a number of years. Over time, Derek worked himself and his horses into the woods, eventually transitioning to full-time positive impact horse logging work. Derek grew up with horses and brings an extensive knowledge of horses and horsemanship to the work in the woods. He is in charge of acquiring, housing, and training Third Branch's working horses. Derek and his family own and manage a woodlot as part of their farm property in Braintree, at which the company's winter sleigh rides are based.
John Plowden is a co-owner and operator of Third Branch Horse Logging LLP.  John spent a number of years as a cabinet maker in New York State, gaining a keen understanding of wood products and how they are utilized in the commercial marketplace. Like Derek, John's early working years were on the water, and he transitioned to a life land-side. He brings more than 25 years of horse logging experience from the woods of Maine, where he also operated heavy equipment and worked as a building contractor. With a broad skill set and a focus on how to produce high quality and ultra sustainable lumber, John runs the saw milling side of the business and does the design work on small structures/bridges that the business builds.