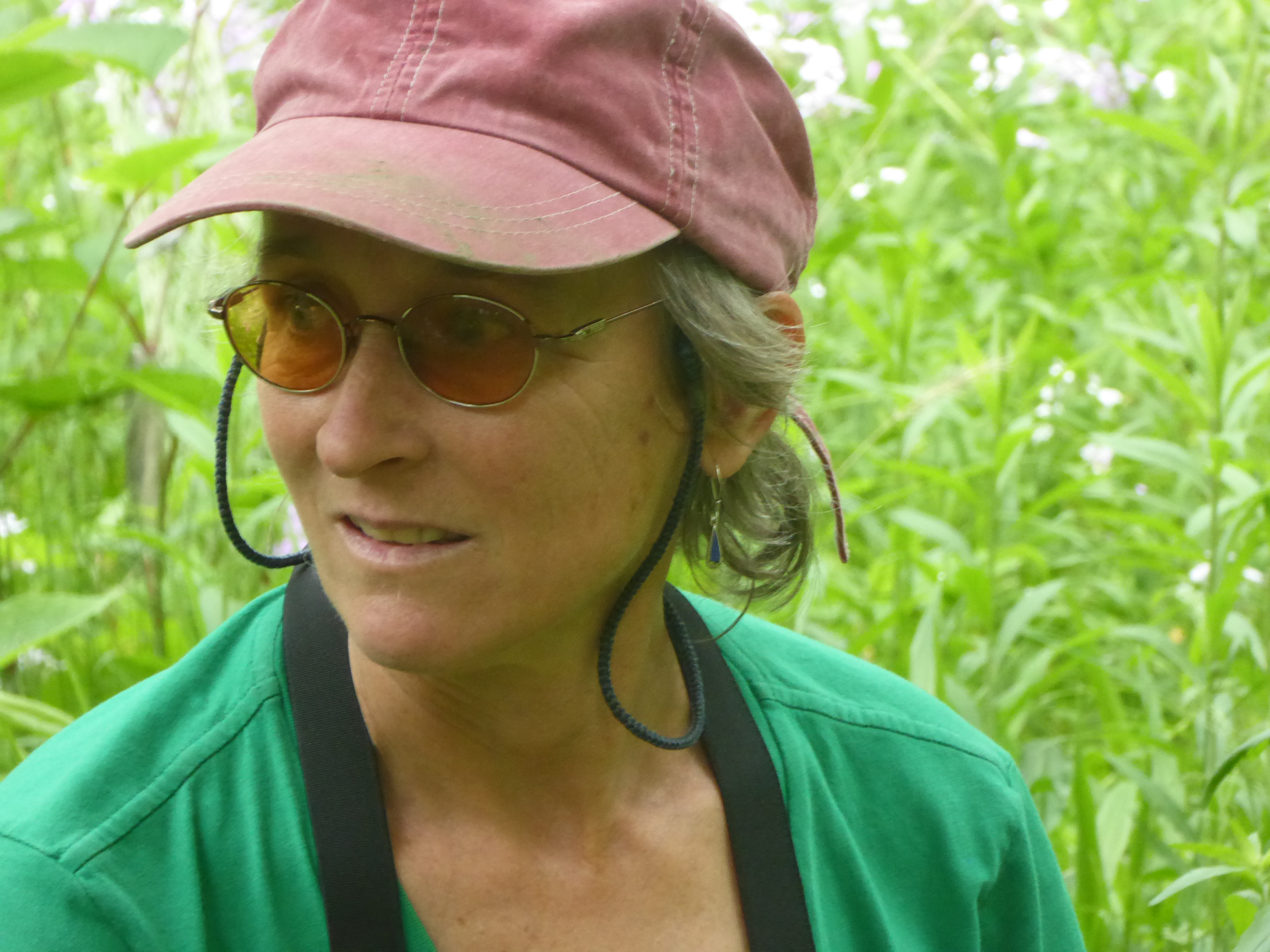 Forest Manager and Ecologist: Tii McLane
Elisabeth McLane, who goes by "Tii," operates a small consulting business out of Strafford, VT. Tii provides consulting forestry services, as well as contract work in wildlife habitat, botany, and natural community mapping.
Tii first became interested in forestry when in high school, and after graduating she worked for the Forest Service in California. She started her college degree at the University of Washington before transferring to the University of Vermont. After receiving her degree in 1984 she joined the Peace Corps working on reforestation projects in the country of Benin in West Africa. After her time in the Peace Corps, she started working as a consulting forester in Vermont, which she continues to this day. 
In her consulting forestry work Tii serves approximately 150 clients who own forests in east-central Vermont from the towns of Weathersfield to Newbury. Between all her clients she estimates she cares for 3,000-5,000 acres. When it comes to this work Tii first meets with landowners to understand what goals they have for their land. She then takes inventory of the forest to determine what trees, plants, wildlife, and other features the forest possesses. With the goals explained and inventory taken Tii then develops a management plan that follows UVA criteria for each particular forest and writes it up for the landowners. 
Many of Tii's clients seek her guidance in helping their land remain within current use standards. Tii feels current use is a valuable program saying, "[Landowners] buying into the idea of a working landscape is a good thing." She explained that conservation and wildlife groups agree it is a beneficial program and that it is important to industry, the state, and to habitat. Current use encourages land owners to provide protections to the land and keep VT forested. 
Tii describes her job as a mix of forest manager and ecologist. In addition to her forestry degree, she holds a master's degree in Conservation Biology. She feels that her primary strength as a forester lies within her ecological focus, and timber production, per se, is frequently a secondary goal for her clients. She offers expertise in general ecology and wildlife habitat, especially bird habitat. She is interested in expanding her work further into the realm of carbon management and climate resilience. 
These skills and knowledge guide her in her ecology-specific work. Tii does botanical survey as a private contractor, carrying out rare plant and invasive species surveys for a variety of organizations. She has also been tasked with natural community mapping for municipal projects. Using her bird expertise, she does land owner outreach to encourage and educate on bird conservation in partnership with Audubon Vermont.
Tii is also an active VWA member. She became a member four years ago and recently joined the VWA's Forester Advisory Committee. She likes the idea of foresters working together to discuss consulting forestry business and current issues, which is what the committee seeks to do. She enjoys working with and being a part of the VWA. 
When asked about some of the challenges of the job Tii mentioned the reputation of forest management. She stated that management practices in the past have caused problems for the environment, leading to a negative public perception of its practices. As climate and carbon issues have become more prominent it has brought past management practices under scrutiny and damaged forest management's reputation. Tii said, "Public anxiety leads to more complexity and difficulty in the work." Repairing forest management's reputation and showing the benefits and effectiveness of its practices are things Tii attempts to do in her work. 
Tii also spoke of the importance and value of foresters and their work. It is important to have someone working for you that knows forests and all that is in them. Tii explained that foresters act as a "go-between" between a landowner and a logger, eliminating conflict-of-interests between the two parties. They are in a position to offer explanations with regards to various aspects of logging, while also helping the logger understand the landowner goals for the harvest. When it comes to forest management she said, "[Foresters] spend their lives working in the forest, studying the forest, and practicing management techniques. The science of forestry is always changing as it responds to new ecological/biological discovery and it is important to work with someone who has this knowledge. Working with a forester can help landowners better understand and care for their forests."