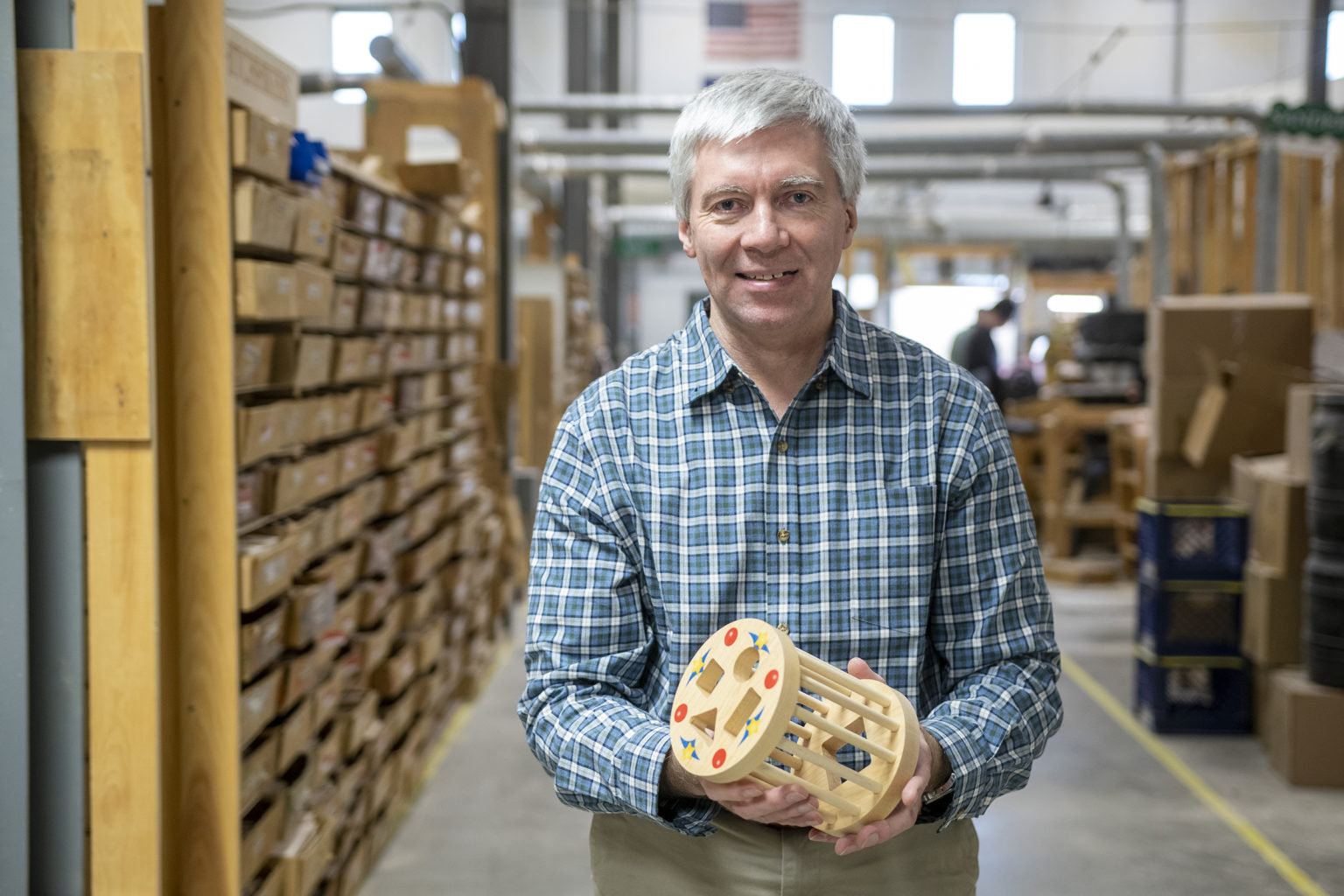 Maple Landmark, America's "Local Toy Company," Rooted in Family, Forest
By Christine McGowan, Forest Products Program Director at Vermont Sustainable Jobs Fund
Mike Rainville, founder and owner of Maple Landmark, landed his first wholesale account at age 15, when a traveling salesman noticed the wooden tic-tac-toe boards Mike had for sale at the Lincoln General Store. That was 1979. Today, Maple Landmark supplies wooden toys—including the tic-tac-toe and cribbage boards that gave Mike his start—to thousands of gift shops around the world, employing 37 people at its 28,000 square-foot facility in Middlebury, Vermont.
Growing up in Lincoln, Rainville, who describes his family as "either farmers who did carpentry on the side or carpenters who did farming on the side depending on the circumstances," was always surrounded by tools, scrap wood, and big piles of sawdust. He started tinkering one afternoon when, bored after finishing his chores and homework, his mother suggested he go build something. "She likes to say I went down to the basement and never came back," said Rainville.
He started making simple household items such as bobbin and spool holders and eventually moved on to game boards. He continued woodworking throughout his college years and, in 1984, expanded his workshop in Lincoln where he hung the first "Maple Landmark" sign on the door. Officially open for business, Rainville spent the next two decades expanding, eventually acquiring two other Vermont toy making companies—Troll's Toy Workshop and Montgomery Schoolhouse.
America's Local Toy Company
As the product line expanded, one thing remained the same at Maple Landmark—doing business locally. For the entire history of the company, Maple Landmark has purchased the majority of its lumber from local mills that are family owned, multi-generational businesses who steward their own woodlands and work with responsible loggers.
"I'm a local guy," said Rainville, "I deal with local people." Early on, Exclusively Vermont Wood Products in Bristol supplied most of the wood. As the company grew, he added Johnson's Lumber in Bristol and Gagnon Lumber in Pittsford to his suppliers. Since most items the company makes are small, they buy the low- and medium-grade wood not suitable for furniture and simply work around knots or imperfections. As often as possible, they work with native species, primarily sugar maple, as well as some pine, cherry, and oak.
Less lofty principle and more rooted in Yankee practicality, working with people he knows and trusts are just "common sense" according to Rainville.
"Why bring in lumber from somewhere else when I know everyone up and down the supply chain here in Vermont?" said Rainville.
That ethos extends to other parts of the business as well, such as local banking relationships. Rainville points out that only one percent of the company's budget goes out of the country, and they keep as much as possible right here in Vermont.
Local Toys, Global Opportunities
Rainville's commitment to local relationships, wooden toys, and products that are "Made in the U.S.A," came to bear in 2007 when a series of high-profile recalls revealed that overseas manufacturers were using lead and other hazardous materials in toy manufacturing. Well positioned with their product line, the company was promoted as a non-toxic alternative in national press and saw a huge surge in sales. "That year was a big turning point for us," said Rainville, who launched their Schoolhouse Naturals line in response.
And, of course, 2020 will mark another turning point for the company, which has seen a significant shift from wholesale sales to direct-to-consumer. "Main Street shops were struggling before the pandemic," he said, "and the trend toward online shopping has accelerated during COVID-19."
When the pandemic hit last spring, he sold a record number of classic board games such as Chinese checkers, and he predicts that families may be more inclined toward gifts this holiday that bring people together, and off screens, for a few hours.
All in the Family
As the company's past is rooted in family, so is its future. Rainville's two grown sons, Adam and Andrew, have both recently joined the business, helping with production management and communications. Among their projects—revamping the website and printing the first holiday catalog the company has mailed in 16 years, both designed to drive direct sales and appeal to consumers looking for classic gifts such as wooden blocks, colorful name trains, board games, puzzles, and the painted ornaments that have become the company's best sellers.
The company also sells build-it-yourself kits, offering a reminder from Rainville's mother that when kids get bored, they can "go build something."
About the Vermont Forest Industry Network
Vermont's forest products industry generates an annual economic output of $1.4 billion and supports 10,500 jobs in forestry, logging, processing, specialty woodworking, construction and wood heating. Forest-based recreation adds an additional $1.9 billion and 10,000 jobs to Vermont's economy. The Vermont Forest Industry Network creates the space for industry professionals from across the entire supply chain and trade association partners throughout the state to build stronger relationships and collaboration throughout the industry, including helping to promote new and existing markets for Vermont wood products, from high-quality furniture to construction material to thermal biomass products such as chips and pellets.
Learn more or join at www.vsjf.org. For COVID-19 updates from the Vermont Department of Forests, Parks, and Recreation, please visit FPR COVID-19 Response.
feature photo: Mike Rainville, founder and owner of Maple Landmark, purchases the majority of the company's lumber from local mills that are family owned, multi-generational businesses who steward their own woodlands and work with responsible loggers. Photo by Erica Houskeeper.