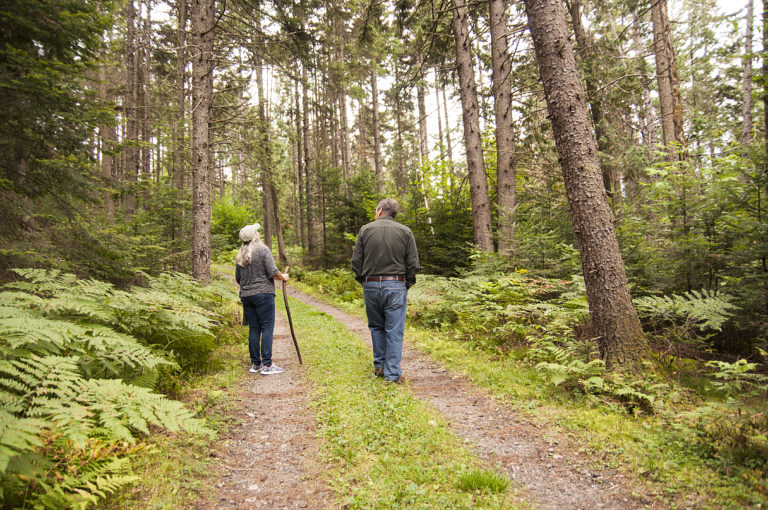 Town Forests Bring Vermonters Together, Even While Social Distancing
By Christine McGowan, Forest Program Director, Vermont Sustainable Jobs Fund
In the era of COVID-19, Vermonters are particularly fortunate to live in a rural state where access to the outdoors is abundant. Even people living in Vermont's largest city and the epicenter of coronavirus cases in the state, most Burlington residents had access to their nearby town forest for a walk and fresh air.
But during the weeks when even town forests were shuttered to slow the spread of the virus, Chittenden County Forester Ethan Tapper found people yearning for a taste of the woods from the comfort and safety of their home.

Chittenden County Forester Ethan Tapper has hosted series of events and webinars to demonstrate how good forest management can support climate resiliency, biodiversity, recreation, carbon sequestration, and a healthy economy. Photo by Erica Houskeeper.
Community Engagement in the Time of COVID-19
"Right away I recognized an opportunity to engage with people who might not come to a forest walk but do consume virtual content," said Tapper. Channeling his energy around community education and engagement into online platforms, Tapper launched "Coffee with a County Forester," a weekly chat hosted by the Vermont Woodlands Association and Vermont Coverts on Zoom. The first chat had more than 75 people in attendance and now draws a regular weekly crowd of 30-40 tuning in to engage with Vermont's country foresters.
"It's convenient," added Danny Fitzko, Vermont's Director of Forests, who is rethinking how her division will do outreach in the future. "It doesn't beat being in the forest together, but it's working."
Tapper also launched a series of webinars, which cumulatively have reached more than 500 people, on topics such as tree identification, backyard stewardship, and invasive species treatment. With schools closed, he also partnered with the Fairbanks Museum to offer programming for middle schoolers. "Before COVID-19, I dreaded webinars," said Tapper, who admits he's happiest out in the forest, "but it feels really valuable to be making new connections."
Now that many stay-at-home orders have been lifted and socially-distant recreation can resume, town forests are playing a big role in providing Vermonters — and some out-of-town visitors — a place to hike, bike, or just get away from the stresses of the times.

Forester Matt Langlais mountain biking in Vermont. Photo by Erica Houskeeper.
Vermont Town Forests: For the People
All told, there are over 67,000 acres of forestland owned by 168 municipalities in Vermont, and, according to Fitzko, there has been a recent resurgence in interest in town forests, largely driven by expanding recreational opportunities, such as mountain biking. "The more traditional values associated with forests — hunting, walking, fishing, timber harvesting — are now co-existing with trail building and outdoor classrooms," said Fitzko.
Tapper agrees. "Not everyone has the ability to own and manage land, but town forests give everyone an opportunity to weigh in on a public space." Tapper sees town forests as an entry point to bringing people into a bigger conversation about forest management. "Each time someone joins a forest walk because they're curious about tree identification or bird habitat, we have an opportunity to build a coalition of responsible stewards of our public lands."
"Vermont's town forests are forests for the people," said Fitzko, who spent 15 years growing Vermont's Urban and Community Forestry program. "It's democracy in its purest form. Once a town has taken the step of protecting the local forest from development, communities decide how they want to use and enjoy that land."
Each town forest in Vermont reflects the values of the community and offers different angles for engagement. At the Catamount Family Forest, for example, a popular mountain biking location, Tapper is planning events with the Vermont Department of Fish & Wildlife around the intersection of recreation and forestry. Home to 20 miles of trails spread over 500 acres, the Catamount Community Forest is also being studied to understand how to adapt silviculture, the growing and cultivation of trees, in response to climate change.
"Increased interest in recreational opportunities is shining a light on town forests and bringing more Vermonters into the conversation," said Fitzko, noting that outreach and education from country foresters like Tapper is more important than ever. "If we can engage people in the visioning process to really think about what they want the forest to look like based on community values, and to understand that forests can and should be managed for multiple purposes, we can have some robust and exciting conversations about how to manage these incredibly valuable resources."
Tapper agrees. "Forests and forest management are for everyone," he said, "which is why education and outreach are so important. We can't just rely on the partnerships of the past 100 years — we need everyone to be in favor of good forest management to support a healthy future."

Foresters Emily Meacham and Scott Machinist take a walk pre-COVID-19. Photo by Erica Houskeeper.
For more information about town forests, or to find your town forest, please visit vtcommunityforestry.org.
About the Vermont Forest Industry Network
Like most, the forest and wood products industry in Vermont is experiencing uncertainty during COVID-19 and finding ways to innovate and respond. From JK Adams making face shields to woodworkers turning out birdhouse kits for kids, the industry is finding ways to support their employees, customers, and communities. The Vermont Forest Industry Network creates the space for industry professionals from across the entire supply chain and trade association partners throughout the state to build stronger relationships and collaboration throughout the industry.
Vermont's forest products industry generates an annual economic output of $1.4 billion and supports 10,500 jobs in forestry, logging, processing, specialty woodworking, construction and wood heating. Forest-based recreation adds an additional $1.9 billion and 10,000 jobs to Vermont's economy. Learn more or join at www.vsjf.org. For COVID-19 updates from the Vermont Department of Forests, Parks and Recreation, please visit https://fpr.vermont.gov/COVID-19.
Feature photo: Taking a walk through a Vermont forest. Photo by Erica Houskeeper.