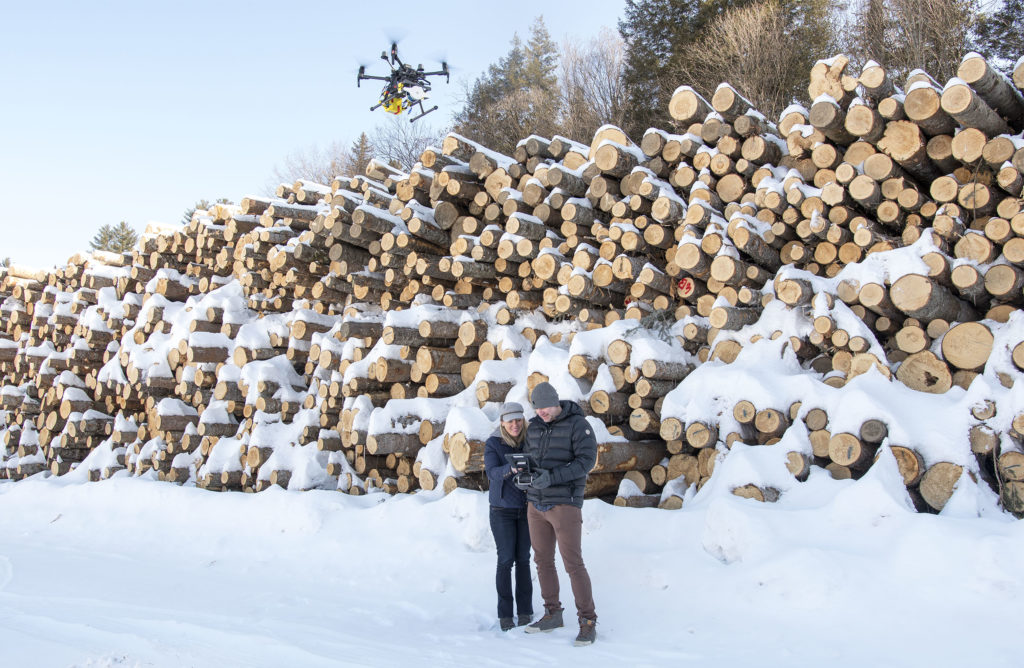 New Technology for Vermont's Oldest Industry
Start-Up Whiteout Solutions Piloting Forest Inventory and Mapping Technology in Northeast Kingdom
By Christine McGowan, Forest Products Program Director at Vermont Sustainable Jobs Fund
Vermont's first sawmill opened in 1738, nearly a century before the first chainsaw was invented, not to mention cars or telephones. And it was at least 150 years before that sawmill had electric lighting. Technological solutions have been slow in coming to the forest products industry, but a Northeast Kingdom start-up is hoping to change that.
Whiteout Solutions, based out of the DO NORTH Coworking Space in Lyndonville, Vermont, has developed a new forest mapping technology using LIDAR sensors attached to drones. According to co-founder Matt Clark, their system hits a sweet spot between manual surveying and LIDAR sensing on airplanes, providing highly detailed, digital information in real-time.
"Good data informs good decision-making," said Clark, who ultimately envisions a statewide digital forest database. "Our technology captures detailed data about a forest, including tree species, diameter, understory characteristics, wetland locations, and emerging forest health issues—information that can be used for multiple scenarios."
Clark and co-founder Christine Heinrich believe that data can be used to inform important decisions about Vermont's most prized natural resource: its forested landscape. A real-time digital inventory could help inform everything from the timing of a timber harvest to quantifying carbon sequestration. The company is also working on a pilot program in Burke to inventory roadside ash trees, as town planners prepare for the arrival of the Emerald Ash Borer.
"Advancements in forest inventory, specifically the measurement of trees and characterization of forest stocking, has not made any great strides since the early 1950s," said Calendonia/Essex county forester Matt Langlais, "and still requires individual trees to be measured by a forester on site. While I don't see this technology replacing the work of foresters, I do see it empowering us with better information and ultimately better decision-making capabilities."
Age-Old Problems, New Technologies
With backgrounds in Geographic Information System (GIS) mapping and software development, Clark and his business partner, Christine Heinrich, founded Whiteout Solutions with the goal of "solving age-old problems with new technologies." The pair worked closely with 911 in the early 2000s as landlines were replaced with cell phones. "People still assumed that a 911 operator would know their location when they called," said Heinrich, "so we had to build a solution for that transition."
Using what they had learned about mapping technology, Heinrich and Clark began talking with loggers and foresters in the Northeast Kingdom where they live and quickly realized that a similar solution could have applicability for the forest industry.
"Building an accurate forest model is very labor intensive," said Clark. "Foresters are essentially gathering information visually and recording data manually on a sample set of maybe 10 to 30 percent of a parcel and then making assumptions about the remaining 70 percent. The only other technology previously available was a sensor attached to an airplane, which provides broad swaths of information from high altitude, and that tends to be cost-prohibitive for most landowners."
Clark and Heinrich began building a new model from the ground up. They developed a remote sensing technology that could be used on slower, low-flying drones to capture detailed data on parcels anywhere from 50 to 5,000 acres. Then they set about creating a software that would instantly translate those data points into a 3D model of the parcel.
"We can survey a 200-acre parcel in 30 minutes and capture 99% of the information available," said Clark, "and we can do that for $5 to $15 per acre depending on the final reporting needed." The kinds of data points they are able to collect include individual tree diameter and species, watershed runoff, slope and grade of the earth, whether the understory is made up of soft bedding, road, rock or wetland, and any evidence of disease.
"Once we have the data, we can run multiple scenarios to answer a wide variety of questions," said Clark. "Is there a harvestable stand? What is the best location for a road in order to have the least impact on the environment? What is the real value of the land?"
A Tool for Foresters, Not a Replacement
"It sounds cool. I want to use it," said Mike Snyder, commissioner of Vermont Forests, Parks and Recreation. "In the tradition of technology allowing people to do their jobs better and faster, I'm all for it. However, there is no substitute for having a knowledgeable forester in the woods integrating all the variables. We don't just identify vegetation as bird habitat, we stop and listen for the birds too."
Clark and Heinrich are quick to agree. "The idea of using LIDAR sensors to assist with forest inventory is not new and was never intended to replace the work of professional foresters. We are simply making that tool more approachable, applicable and affordable."
They point out that, currently, forest planning relies on manually recorded data submitted in static reports. Armed with LIDAR sensors attached to drones, and real-time 3D modeling, foresters are able to capture more data faster and use the reporting to support the ongoing, big picture goal of maintaining healthy and productive forests.
"Better data, better dialogue, better decisions," said Snyder. "It's one of our mantras at the department and I can definitely see applications for this kind of technology, as long as we remember that forests are diverse and dynamic, and reporting will always be more complete with human eyes on the ground."
Case Study: Burke Emerald Ash Borer Inventory
Last fall, Langlais gave a presentation to the Town of Burke Conservation Commission on preparing for the Emerald Ash Borer. Municipalities are responsible for ensuring public safety within the public rights of way, and many Vermont roadways are lined with ash trees likely to become hazardous as disease sets in. The first step in planning and budgeting, Langlais informed the commissioners, is a roadside ash inventory. Traditionally, that kind of survey would be done by volunteers recording data tree by tree.
Clark, who was in the audience, offered to use Burke as a pilot project to conduct the inventory using their new technology, which was quickly accepted.
"Volunteer data collection is a tall order when you consider that Vermont has almost 16,000 miles of roads," said Langlais. "A drone fitted with LIDAR, GPS and thermal imaging that can quickly determine which trees are in the town's right of way, which are ash trees, and the diameters of those trees for budgeting removals offers a very efficient and effective means to cover that 16,000 miles, so I think Whiteout is definitely on to something that can have a big impact."
Presently, less than 30 of Vermont's 255 towns have done roadside ash tree inventories.
"There is technology to be applied in forests and some interesting problems to be solved," said Clark. "Since we built this technology from scratch, we can custom create data collection to answer very specific questions."
For more information about Whiteout Solutions, please visit www.whiteoutsolutions.com or call (800) 388-0935.
About the Vermont Forest Industry Network
Vermont's forest products industry generates an annual economic output of $1.4 billion and supports 10,500 jobs in forestry, logging, processing, specialty woodworking, construction and wood heating. Forest-based recreation adds an additional $1.9 billion and 10,000 jobs to Vermont's economy. The Vermont Forest Industry Network creates the space for industry professionals from across the entire supply chain and trade association partners throughout the state to build stronger relationships and collaboration throughout the industry, including helping to promote new and existing markets for Vermont wood products, from high-quality furniture to construction material to thermal biomass products such as chips and pellets. Learn more or join at www.vsjf.org. For COVID-19 updates from the Vermont Department of Forests, Parks and Recreation, please visit FPR COVID-19 Response.
[photo: Christine Heinrich and Matt Clark, co-founders of Whiteout Solutions in Lyndonville, developed a new forest mapping technology using LIDAR sensors attached to drones. Photo by Erica Houskeeper.]