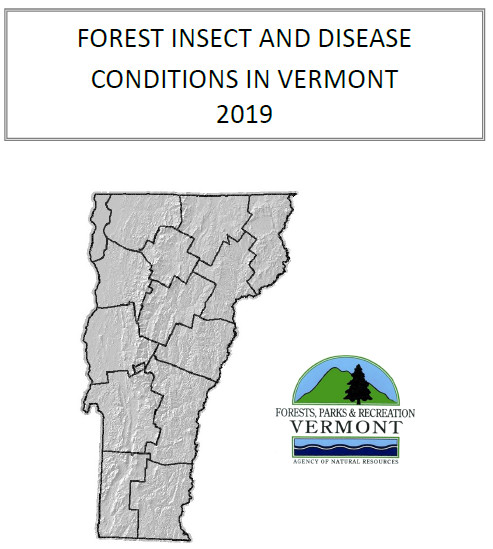 Vermont 2019 Forest Insect and Disease Conditions Report
The 2019 Forest Insect & Disease Conditions in Vermont has been posted HERE. This is our detailed report with maps showing results of aerial detection and invasive pest surveys, ground survey data summaries, and a comprehensive list of tree health problems that were reported to us last year. A printed version will also be available in the future. To obtain a copy, please contact Jenny Lauer at jenny.lauer@vermont.gov, or 802-828-1531.
As previously announced, a briefer summary of 2019 Vermont Forest Health Highlights can be found HERE.
During the growing season, we'll continue to distribute regular updates on forest insect and disease observations. After many years of compiling these popular updates, Trish Hanson is currently enjoying retirement, but we're pleased to welcome forest pathologist Savannah Ferreira to the Forest Biology lab. If you see something we should include, please contact her at savannah.ferreira@vermont.gov. We're also glad to have Emily Meacham (Saint Johnsbury) and Jon Cherico (Barre) who joined our Forest Protection staff last year, and Kathy Decker who is returning to the program and will be leading forest health efforts.