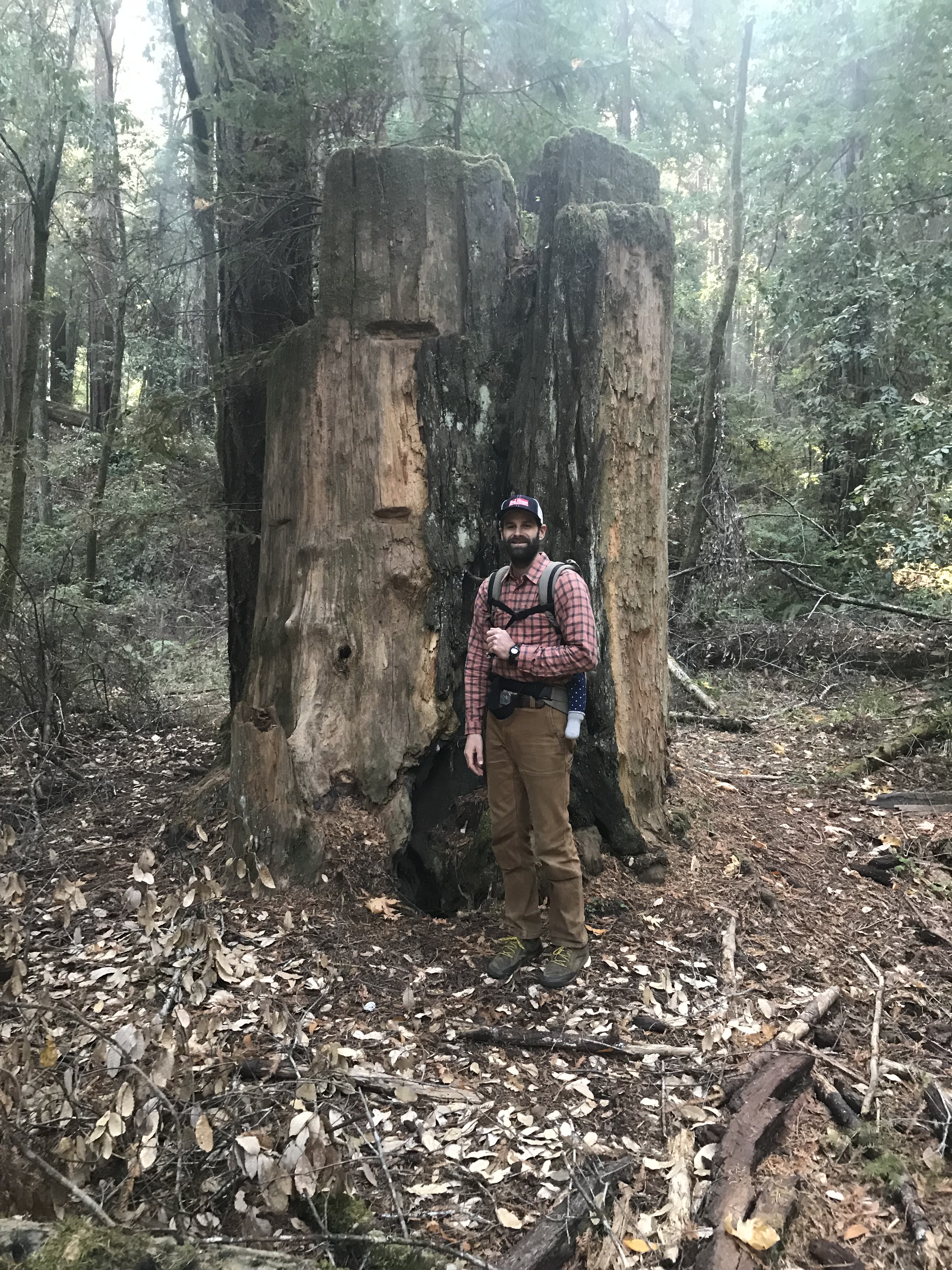 Advocate: Michael Brown and Birdseye Forestry
Michael Brown is a VWA certified consulting forester from Moretown, VT where he lives with his wife and two kids. He is the founder and forester of his own forestry business, Birdseye Forestry. Located in central Vermont, Michael services mainly the Mad River Valley and parts of the Champlain Valley and Northern Kingdom regions of the state.
Michael did not grow up planning on being a forester. He was always an outdoor man though. As a kid Michael loved camping, hiking, biking, caving, skiing, and many other outdoor activities that he still enjoys today. Michael entered college at the University of Vermont as an English major not entirely sure of what he wanted to become. At the prompting of a friend, he took a forestry course called Forestry Seminar 082 with John Shane as the professor. Through this class his interest was piqued, and it led him to decide on forestry as his course of study. He graduated from UVM majoring in Forestry with a concentration in wildlife biology and a minor in Geospatial Technologies. After graduating Michael worked for two different consulting forestry businesses doing consulting forestry work throughout northern Vermont and New Hampshire. He has been a VT and NH certified consulting forester since 2016.
In 2018 Michael struck off on his own and started Birdseye Forestry. Nowadays Michael cares for just shy of 10,000 acres of woodlands. Much of his work is forest management. Michael helps clients enroll and maintain their enrollment in the Current Use program. His Current Use clients range in size from 10 active acres to his largest client having 1,800 acres in the program. His management work also includes timber sale planning management, timber inventory valuations, and boundary marking/maintenance. Apart from these Michael performs riparian buffer planting, invasive species management, and tap counts for maple producers too. In addition to the private work, he does a small of amount of municipal forestry work and subcontracting for other forestry companies. All of this while having two young kids at home keeps him quite busy. Currently he is doing mostly boundary work for clients, while the planning and management will come later on in the year.
Michael mentioned managing timber sales as one of his favorite parts of the job. He gets to meet a diverse range of people in the Current Use program through this portion of the job, and learn the different reasons that clients enroll their land in the program. Michael also enjoys the unexpected finds he comes across in his work. Working in the woods, he does not just look at trees all day, but comes across interesting natural and archaeological features like an old homestead from a bygone era or a beautiful outlook to name two examples. Working on private property he knows most people don't get to see these things apart from the landowner, so he cherishes the opportunity to discover them.
The job is not without its challenges, however. Meeting the different goals of landowners for their land can be a challenge at times. Michael mentioned the current state of the low-grade wood market as a challenge because it has reduced the feasibility of some improvement work to be completed. He also brought up that working during fly season brings an added annoyance out in the woods during that time of the year. Although, he said that head nets are an easy fix to this issue.
Michael became a VWA certified consulting forester in 2018 and he has enjoyed his work with the group. He is a member of the VWA's Forester Advisory Committee. The Committee is comprised of other certified foresters and is designed to aid the VWA in focusing and enhancing its services for foresters and members. The Committee also provides feedback on what clients are seeking from the VWA and foresters.
In all of his work Michael seeks to do the best job possible and manage the land in a way that balances both client goals and the health of the forest and other natural resources. He wants to work in a way that is best for the environment and also his business. He explained that his reputation as a forester and customer referral are the best forms of advertising he can have for Birdseye. So, showing that he can manage the land in a proper and exceptional manner enables him to conserve the land and provide more business for himself.
Michael also explained that foresters are working for their clients. He described himself and all foresters as an advocate for the landowner. Foresters are there to help landowners meet their goals. As a "third party" foresters monitor and protect the interests of all parties involved in a project be it the landowner, logger, land itself, or another party. He feels this is an important aspect for landowners to understand when hiring a consulting forester to steward their property.