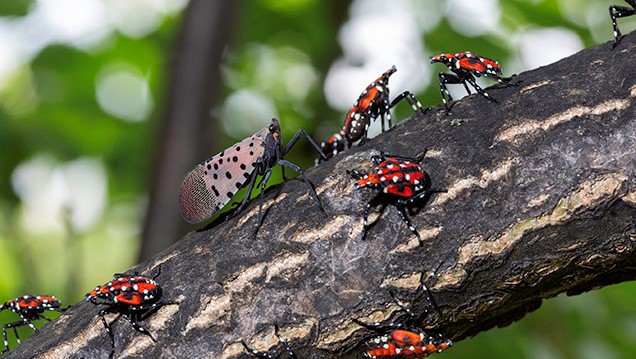 ARS scientists seek answers from Spotted Lanternfly dispersal
WASHINGTON — The black spots and beautiful colors can be deceiving.
At first glance, the Spotted Lanternfly (Lycorma delicatula) is a beautiful insect whose colors mimic the beloved ladybug with its polka-dotted outer wings and red hind wing. But this is not the family-friendly insect that people love to see crawling on their wrist or captured in a framed print in a powder room.
The Spotted Lanternfly is an invasive species that destroy fruit crops, trees and plants by hopping from plant to plant, crop to crop, and tree to tree. Although native to regions in China, India, and Vietnam, it was first detected in Berks County, Pennsylvania in 2014. Since then, Pennsylvania vineyards have seen considerable damage in high infestation areas and the Mid-Atlantic states of Delaware, Maryland, New Jersey, Virginia and West Virginia have also suffered from its presence. Insecticides are effective at killing the insect on grapevines, but they are expensive and of limited use because of constant re-infestation from the Spotted Lanternfly dispersing from wild hosts to surrounding vineyards.