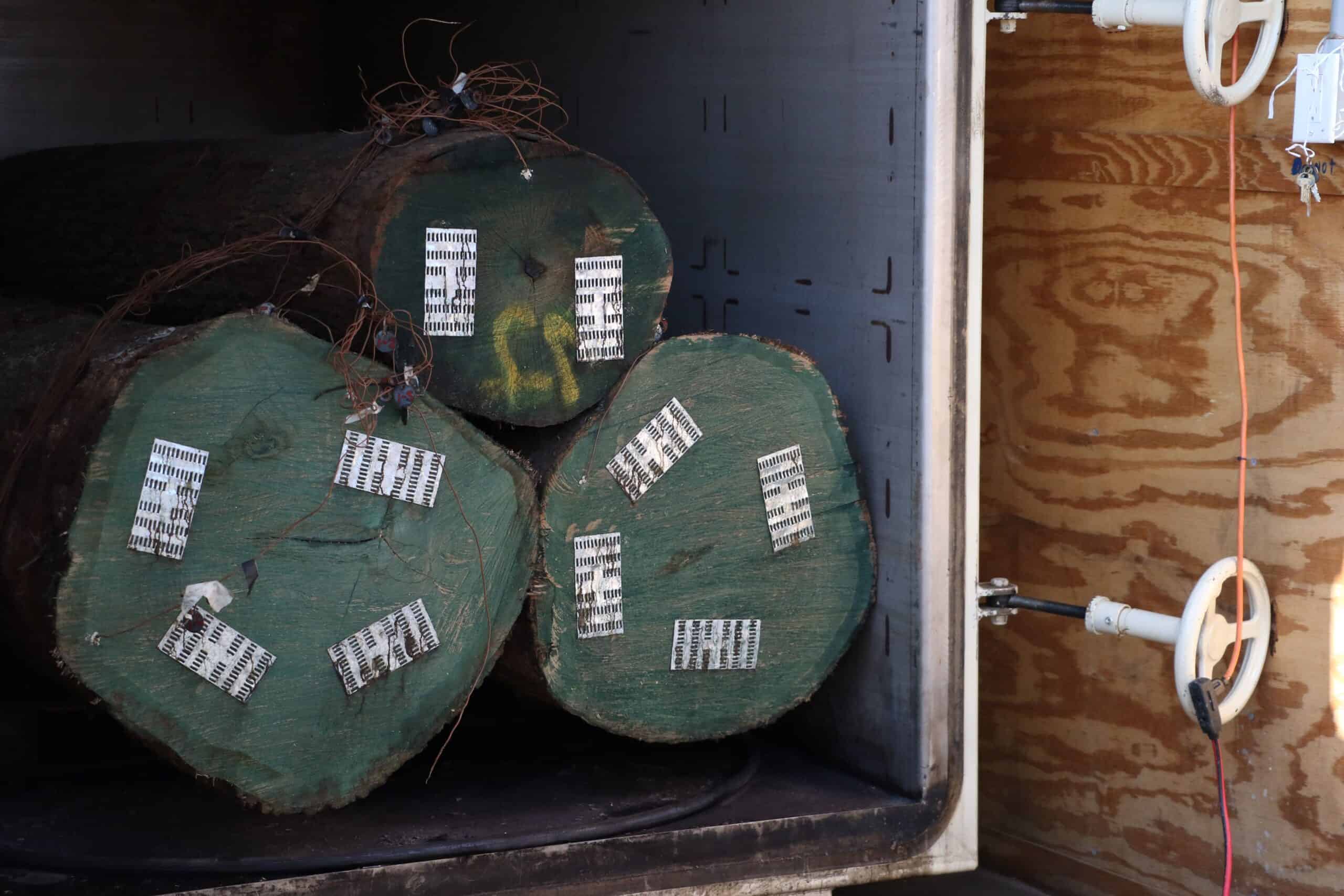 Environmentally-Friendly Log Treatment Technology Tested in Maryland
Last week, new, clean, energy-efficient log treatment technology produced a test log shipment in Maryland, potentially making the state a global link in the veneer log market. The technology, developed for pre-shipment and quarantine log treatment, prepared a test shipment on Wednesday, November 10, at the Mill Creek Lumber/Polo Pallet Manufacturing Company in Elkton, Maryland. National, state, regional and county stakeholders attended the test, which is anticipated to have a far-reaching impact on the forest product industry at large.
The environmentally-friendly log treatment is a steam-based, non-chemical alternative to a fumigant called methyl bromide. Methyl bromide, a chemical used to control pests in agriculture and shipping, was identified as an ozone-depleting pollutant nearly two decades ago, and was phased out by the United States and the European Union for most uses, with log quarantine and pre-shipment as notable exceptions.
After more than ten years of dedicated research by Virginia Tech and the USDA Forest Service, the technology is a commercially viable solution to an industry problem. Its revolutionary process employs the application of steam and vacuum. Methyl bromide, previously used for log export sanitization, will be replaced with this more environmentally-conscious and practical science.
The steam/vacuum technology system is a scalable solution for the forest product and agricultural industries, as it's portable or stationary and chemical-free. According to the Maryland Department of Commerce, forest products represent the fifth largest industry in the state of Maryland, so the safety and accessibility of the technology could significantly benefit family farms.
On November 10, the efficacy of the treatment was put to the test. A test shipment of logs was prepared at the Mill Creek lumber site, consisting of two 20-foot containers filled with 8-foot white oak veneer logs. One container of treated logs and one container of untreated logs will ship from the Port of Baltimore to the Danzer Veneer Bohemia Mill in Melnick, Czech Republic.
The test shipment itself is a collaboration between the Upper Shore Regional Council (USRC), the Danzer Veneer Americas, Mill Creek Lumber/Polo Pallet Manufacturing Company, and Virginia Tech. Funding support is from the Rural Maryland Prosperity Investment Fund. This is the first of three quality tests slated for the steam vacuum log treatment system to take place at Mill Creek Lumber/Polo Pallet Manufacturing in Elkton.
In 2016, the Port of Baltimore closed its fumigation facility and prohibited exports using methyl bromide, following its classification as an air pollutant by the State of Maryland. As a result, veneer log exporters sought out fumigation facilities in neighboring states. Thus, there's optimism about the technology's potential to revive revenue in this sector.
After arriving in the Czech Republic, the white oak veneer logs will be inspected, tested, and sliced. Upon inspection, the quality and yield of the treated logs will be compared to the untreated logs to determine any impact of the treatment on the product itself. When the test period concludes in early 2022, the results will be documented and published.
"This is a key moment for international commerce in Maryland," said Kelly M. Schulz, Secretary of the Maryland Department of Commerce. "This innovative technology process will reestablish Maryland and the Port of Baltimore as a destination for veneer log exports, which is a billion-dollar industry in the United States."
"A recently drafted Economic Adjustment Strategy identified development of this technology as a critical component of retaining and growing Maryland's forest-based industries," said Jeannie Haddaway-Riccio, Maryland Secretary of Natural Resources. "We were pleased to support this initiative recognizing steam vacuum treatment as an environmentally-friendly method to get Maryland products to the market, potentially through our own ports."
"Sometimes it's difficult to balance sustainability with economic viability," said Susan O'Neill, Executive Director of USRC. "But with dedicated collaborators from the Upper Shore, state, higher education, and private industry partners, we can pave a way forward."
Ron Mack, Commodity Treatment Specialist for the United States Department of Agriculture (USDA APHIS CPHST) comments, "Vacuum steam treatment for export logs will help open markets again to countries in Europe and other locations where methyl bromide treated logs have been banned from being imported.  Test shipments that demonstrate quality of the process to industry and regulatory authorities will help place the technology in use in the near future."
"The Port of Baltimore is one of the top ports in the nation for handling forest products," said William P. Doyle, Executive Director for the Maryland Port Administration.  "Using this new environmentally-friendly and energy-efficient technology is great news and will help us attract new business opportunities and generate additional jobs."
Marshall White, who leads the research team from Virginia Tech, is thankful for the support of USRC to help advance this technology to commercialization. "I believe the Mill Creek Lumber/PoloPallet, Danzer Veneer, USRC, and Virginia Tech collaboration will lead to economic development opportunities for the region. We look forward to future collaborations."
"I commend Polo Pallet and all the stakeholders who were vital in this effort," stated Cecil County Executive Danielle Hornberger. "This project is yet another example of how Cecil County is leading the agriculture industry in the state, country, and on an international scale."
Don Beazley, whose Mill Creek lumberyard was the site of the log test, is excited about the treatment's potential impact on small business exports. "The science behind the process has taken years to develop, but the system itself is simple to use. Its adaptability to different wood products, including the pallets we produce, can bring about new export opportunities to Maryland's small businesses."
About the Upper Shore Regional Council
Since 2003, the Upper Shore Regional Council (USRC) has fostered planning and development in Cecil, Kent and Queen Anne's counties. USRC affords federal, state, county and local governments a regional forum to identify issues and opportunities. USRC plans and implements programs to improve the quality of life in the Upper Shore Region of Maryland.