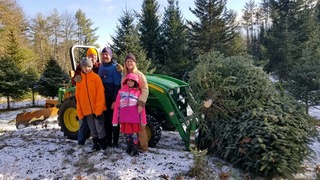 Ernst Tree Farm: 50 Years and Counting
Jay and Ginger Maciejowski are the owners of Ernst Tree Farm in Athens, VT. The tree farm consists of 90-acres of woodland and pasture. The land has been managed by the family since the late 1930s and is nearing its 50th anniversary of being in the Vermont Tree Farm program.
The beginnings of Ernst Tree Farm started in 1938 when Alfred Ernst, Ginger's grandfather, purchased the land for $1,200. From then on Alfred sought to learn more about the land and the best ways to care for it. In 1952 he started working with Gil Cameron, the former Windham County forester, and the following year the first timber sale was conducted on the land. Eventually Robert Ernst, Ginger's father, took over management of the land and oversaw the land's next timber sale.
Jay is a former forester and tree farm inspector and he began helping manage the land after joining the family in the 1970s. It was during this time that the land became tree farm certified becoming Tree Farm #313. After Robert's death, Ginger and her siblings inherited the land. With no clear succession plan in place there were some difficulties between different parties on who should have the land and what should be done with it. The matter was eventually settled in a positive manner when Jay and Ginger bought out Ginger's siblings and became sole owners of the land five years ago.
Throughout the family's ownership the property has undergone five timber sales, each conducted by professional foresters. These cuts have improved the woodland and produced several million board feet of timber. The property has also been enrolled in the Use Value Appraisal program, better known as Current Use, for 40 years. The land has undergone four management plans under Current Use. Nowadays the property features a mix of hemlock-hardwood and white pine saw- timber stands with pole and saplings in the understory. The woodland's next harvest is scheduled for 2028. There are also plans to improve access roads on the property by installing culverts and other upkeep. Now in his 70s Jay said he "thinks about the trees and not myself" when planning future projects for the land. The trees will be around longer than he will be so he wants them to be in a position where they can continue to thrive.
When it comes to the goals for the land, Jay and Gingers' objectives have changed over time. When Ernst Tree farm started the goal was to produce quality saw timber, which it has done throughout its existence. While timber is still a part of their goals, Jay and Ginger have incorporated wildlife habitat and environmental management into their operation. Their land has experienced some damage due to a changing climate. For instance, they recently lost an acre of hemlock trees due to wind shear. With these kinds of issues affecting their land more frequently, the Maciejowskis want to manage their land in a way that will minimize climate damage and keep their woodland a viable habitat for wildlife. This also includes their pasture land which they seek to keep healthy for pollinators.
One of the biggest challenges of managing their land is invasive species control. Like other parts of the state, Ernst Tree Farm is subject to invasive plants and insects. Jay mentioned buckthorn as one species that he finds and destroys often. Their land has not detected Emerald Ash Borers yet, but they remain a looming threat, according to Jay. Controlling invasives is critical to keeping the land a healthy habitat for wildlife, so Jay and Ginger take a "zero tolerance policy" for their land, meaning if they detect an invasive, they destroy it immediately.
Being a former tree farm inspector Jay has much experience in the program and a unique perspective from owning a tree farm and helping others operate their own. With this experience Jay mentioned two pieces of advice for tree farmers to consider. The first is to do estate planning and have a clear succession plan. Often times people think they know what the landowner wants after his or her death. However, upon their passing it is sometimes discovered that matters of inheritance were not as clear as perceived and problems ensue. Jay stated, "There are a lot of people that love the land and want to see it remain in production, but they need to do estate planning if they want to keep it." He also added that there are many good resources like foresters, tree farm inspectors, and organizations that landowners can use to guide them in succession planning. The second piece of advice that Jay mentioned was that if a management plan is in place for one's land that they hire a consulting forester to carry it out.
Jay and Ginger have enjoyed being a part of Tree Farm and are grateful for the benefits the program offers to landowners. Jay said that Tree Farm, "Gives landowners a way to learn and shows them that they are not alone in caring for their land." They do not envision themselves ever leaving the program and look forward to continue stewarding their land to fulfill the former and newer goals they have for their land.