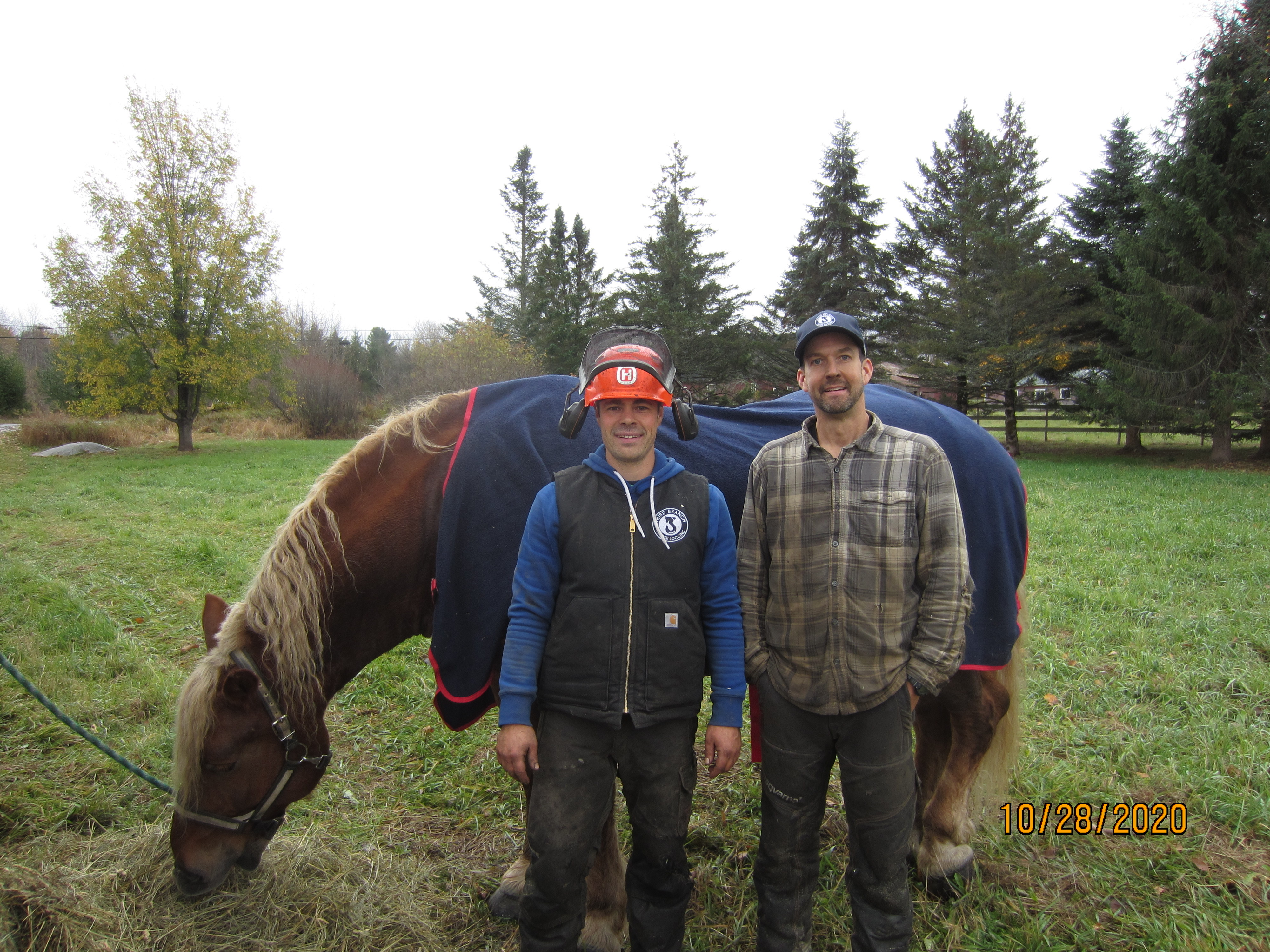 Not "Horsing Around": Brad Johnson and Third Branch Horse Logging
Brad Johnson lives in Northfield, VT and operates Third Branch Horse Logging with business partner Derek O'Toole. Third Branch uses draft horses and some machine use for land management, timber/firewood, and residential tree services around central Vermont. Between the two of them Brad and Derek have over 25 years of experience farming and logging with draft horses. With that knowledge they seek to bring practical draft horse application to a modern logging setting.
Using draft horses allows Brad to log in a way that is more surgical and promotes sustainibility. The horses cannot take out logs that are greater than 16 ft, as opposed to machine logging that can take whole trees. He does use small tractors and a forwarding wagon for when the job requires traveling long distances or if the specific situation requires it. This allows for less impact on surrounding trees. Brad's work creates a superior residual stand in forests where he works. The use of horses also reduces soil disturbance in the areas where they work. In this different approach Brad is not focused on getting a maximum yield, but thinking long term and leaving the best residual stand that will leave the land in an ecologically sound position.
Third Branch clients vary in background and the kinds of work they would like done. Brad frankly said that horse logging is not always feasible for certain kinds of jobs, which he readily tells potential clients. However, all of his clients share a common desire in that all have sustainability in mind according to Brad. He said, "They are thinking about the next generation." While they do want to harvest timber, they highly consider environmental factors such as wildlife or carbon sequestering. They want to leave the forest in a state that it can still flourish for years to come.
Brad takes a similar approach in his logging. He abides by state AMPs, but seeks to work above and beyond those standards. The logging he does must have sustainable results. He explained that while he must make a living and meet clients' goals he is thinking more about the effects on the land. As he said the results of his work must be, "ecological and economical both now and later on." This is one of the particular strengths of horse logging. In addition to the horses being excellent tools in the specifics of each individual job, horse logging leaves an economic residual stand, is a low carbon harvesting method, and lessens soil displacement and other impacts that machine logging can cause. Brad's focus on sustainability extends to the private setting as well. Apart from being a logger, he owns 100 acres of forest himself. In managing his own land, he wants to do it in a manner that will leave a positive impact on the environment.
Brad works with consulting foresters often in his work and also in managing his own land. He finds consulting foresters to be essential and welcomes the unique skill set they bring in managing forests. Brad described that when logging or doing other work that affects the forest there are four aspects to consider: the landowner, the forest, the logger, and the land itself. Consulting foresters help provide a "scientific and philosophical approach" when creating a management plan that will be satisfying to each of these entities. The consulting forester's knowledge can help the logger understand the effects of his work on the land and determine the best course of action to lessen the environmental impact of his work.
Brad joined VWA two years ago and has enjoyed his time in the group. The newsletter, forester articles, and other resources are always informative for him. He has found the VWA to be a good avenue of networking and connection with other forest-related workers. He has also had opportunities to share his work with others through demonstrations of horse logging at VWA events. Going forward he would like to see the VWA aid more in determining how woodlots fit into the carbon picture as he feels that will become more important going forward. He also feels that his work and horse logging in general will become more popular in the future in New England as people seek to be more "green."