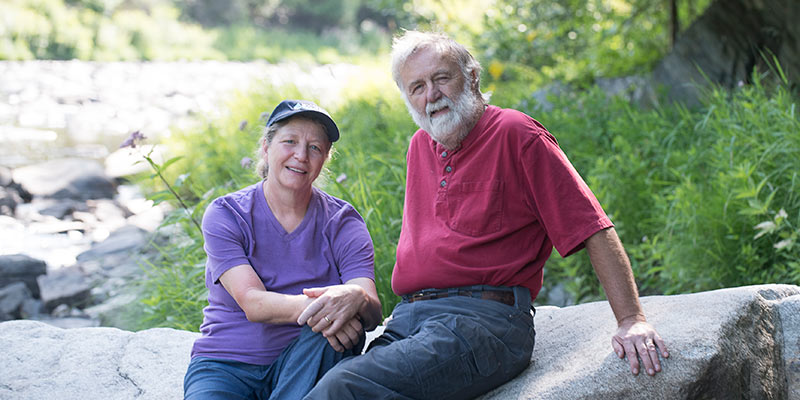 Protecting Land for Wildlife
Story by Cathy Donohue, reprinted with permission of Vermont Land Trust
Sally Schlueter grew up on a Kansas farm with horses, dogs, and cats. She raised sheep and goats as part of her local 4-H youth club and loved walking along streams and climbing trees. "I was always very connected to being outside and enjoying the natural world," she says.
Sally went on to become a veterinarian and practiced in Kansas, Maryland, Texas, and even Cairo, Egypt. In 1994, the search for a rural home led her to St. Johnsbury, Vermont.
She and her family bought 320 acres in 1998, and began to go there weekly, even daily. Her two boys walked the fields and hiked uphill from the Moose River which runs along the boundary. "At the top of the land, there are trees that haven't been cut in a century," Sally says. "It's amazing to see." Over the years, they bought more land and built a barn.
In 2018 — 20 years after the original purchase — Sally and her husband, Ric Prescott, moved into the barn, which they had converted into a home. They donated a conservation easement on 386 acres on December 27, Sally's father's birthday. "It would have been so important to him," she reflects.
Sally says it had always been her wish to protect the land with VLT because of where it sits. "You can see it from the highway when heading north on 93. And, it has a good amount of frontage on the Moose River. It seemed important to save."
The land is home to bear, moose, bobcats, coyotes, and songbirds. There are several pools that fill with water each spring-perfect for amphibians. Ric, a retired high-school science and math teacher, says: "It's nice to have some protection for the vernal pools — one of my favorite teaching spots."
The couple continues to work on the land, keeping the small fields open and building trails. "We both enjoy taking care of this place," Sally says. "Learning what we can do to help, but not interfering too much so it can remain a healthy ecosystem. It's our forever home."
To learn more, visit Vermont Land Trust website.