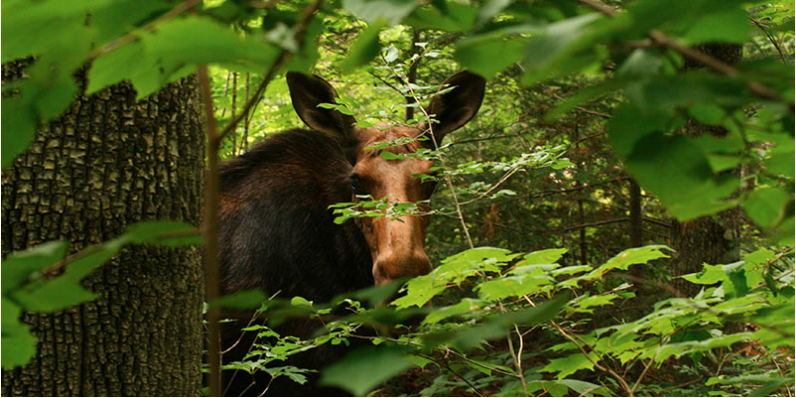 The Land Belongs to the Future
More than 700 Acres Conserved within Important Wildlife Corridor
In the far reaches of northern Vermont lies a massive swath of forest that is an important link between the Green Mountains and the forests of Canada. The Cold Hollow Mountains link up with a wide network of animal habitats stretching from New York to Nova Scotia. Connected habitat helps keep wildlife populations strong and can play a critical role for species adapting to a changing climate.
Protecting the integrity and health of these woods is the mission of Cold Hollow to Canada (CHC), a locally driven nonprofit group that works with landowners in a seven-town area and with partners such as VLT. Recently, two families worked with CHC and VLT to protect forestland in this important region.
Landowners Cheryl and Ward Heneveld have been CHC members for several years, but their connections to the forest go way back. "Over 45 years ago, we bought part of an old farm on a back road in Enosburgh," explained Ward. "[It] had an empty farmhouse, a couple of dilapidated out-buildings, and a mature sugarbush." The Henevelds now use their 50-acre sugarbush to host a Cold Hollow Career Center program in which students learn about tapping trees and making syrup. The 181-acre property also has scenic views of the Cold Hollow Mountains. This winter, Cheryl and Ward worked with VLT to permanently conserve the land and protect it from development. In addition to managed forest, the conservation of this land protects half a mile of Beaver Meadow Brook.
"Landowners like Ward and Cheryl can really make a difference in protecting the travel corridors so critical to wildlife," said VLT's Carl Powden. "The work happening in the CHC region shows how traditional uses of the forest, such as logging and sugaring, can co-exist with protecting habitat and clean water."
Further south, Jackie Brown and her brother-in-law Gary Brown protected 495 acres located on both sides of Route 118 in Belvidere. The land has been in the family since 1937, when Isaac and Bessie Brown bought it from a timber company. It is spectacularly diverse, with elevations ranging from 1,100 to 2,500 feet and excellent wildlife habitat. Streams run down the steep slopes, tumbling over exposed bedrock and small waterfalls into two large wetlands, all of which flow into the South Branch of the Trout River.
The land is located between two 5,000-acre sections of forest that had been previously protected. "The conservation of the Brown property represents a major milestone in the effort to ensure that our forested landscape remains healthy, productive, and intact for the future," said Charlie Hancock, forester, CHC co-founder and board director, and VLT board member. "The parcel was a missing puzzle piece among conserved lands, the protection of which [secures] core wildlife habitat for animals such as moose, bear, lynx, and forest-breeding migratory birds."
Reflecting on conserving the family property, Jackie Brown quoted John Muir: "The land belongs to the future."
The conservation of the Heneveld property was funded by the Town of Enosburgh's Conservation Fund and Cold Hollow to Canada. (December 2018) The conservation of the Brown property received support from Cold Hollow to Canada (March 2019).
Reprinted with permission of Vermont Land Trust