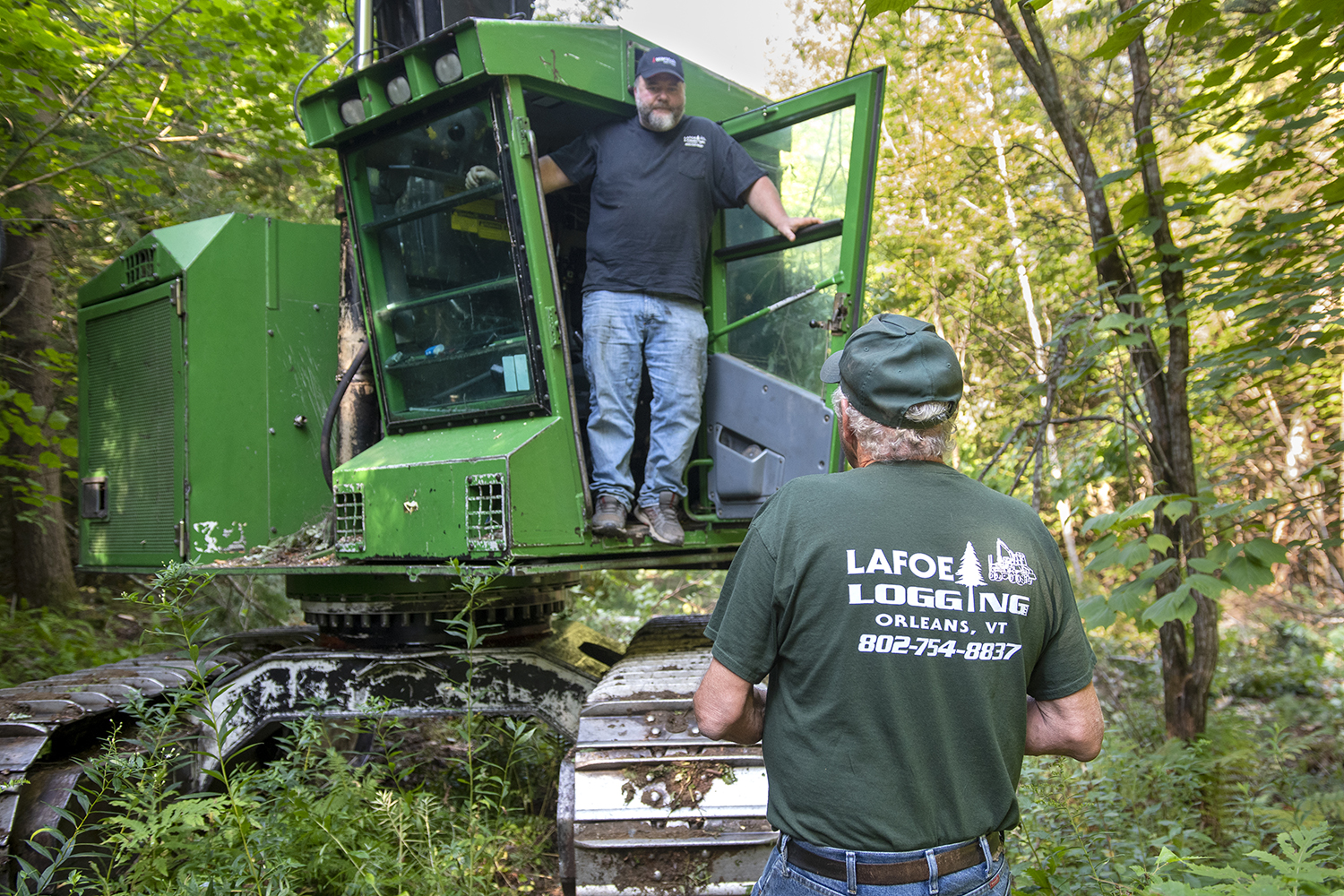 Vermont's Lafoe Logging Named Northeast Region "Outstanding Logger"
By Christine McGowan, Forest Products Program Director at Vermont Sustainable Jobs Fund
In every industry, there are individuals who set the bar. In Vermont's forest products industry, two of those individuals are Brian Lafoe and his son-in-law, Stan Parker, owners of Lafoe Logging. Last year, Lafoe Logging was named "Northeast Region Outstanding Logger" by The Forest Resources Association in Washington, DC, an award conferred for "outstanding independent logging performance" by a logging contractor.
Recognized by industry peers, as well as corporate and private landowners not only for being good loggers, but also for engaging students, legislators, and the general public about the importance of working lands; demonstrating sustainable forestry practices; and practicing the highest levels of safety and care for both people and the land, Lafoe Logging also received the "Outstanding Logging Operator Award" from the Vermont Forest Products Association in 2018.
"Brian and Stan are topnotch loggers who take enormous pride in their work," said Chris Fife, public affairs manager at Weyerhaeuser. "More than that, they are caring individuals who have gone out of their way many times to help another logger, a neighbor in need, or even a forester who's in a tight spot. They demonstrate excellence while always striving to learn and get better. Our forest industry has a brighter future because of their contributions."
Outstanding Loggers
Like many in the logging industry, Brian Lafoe's story can be told through the history of his machinery. Though he began working logging jobs in the mid-1970s, when he dabbled in stump piling softwood pulp and cedar, it wasn't until he purchased his first cable skidder in 1989 that he began a full-fledged career in logging. Over the next decade, he grew organically, eventually adding eight employees and nine subcontractors to his crew, and two grapple skidders, a delimber, a feller buncher, and a loader/slasher to his fleet. It wasn't until his daughter, Brandi, and son-in-law, Stan, moved home to raise a family and join the business that Brian considered smaller might be better.
In 2014, the pair downsized, selling off much of their machinery and purchasing a 703 John Deere Harvester with a Waratah Dangle Head to focus exclusively on cut-to-length jobs for private landowners, foresters, and other organizations. Their cut-to-length equipment allows them to harvest marked trees with minimum impact on adjacent trees and the understory.
"I like to be in the woods," said Lafoe in response to the award. "We're no better than any of the others out there, just different in the way we go about our business."
While that may be true, Lafoe's peers and clients point to a myriad of attributes that set him apart in the industry. Among them, commitment to environmental compliance on all log jobs, an understanding of silviculture and good forest management, and a dedication to safety demonstrated through pristine maintenance of their equipment as well as first-aid training for loggers held in Lafoe's garage in Orleans.
"Brian and Stan shared good ideas regarding harvesting, road layout, landing locations, and future planning which were incorporated in the operation," said landowner Trevor Evans. "I was impressed with their overall knowledge of forest sustainability. On several occasions, I had marked trees which they suggested that I leave for seed trees and regeneration. I had never heard those comments from a logger and was very impressed with this attitude."
"Stan's understanding of silviculture and mastery of his processor to achieve the landowner's desired outcome is second to none," added Fife. "He demonstrates a deep understanding of species and markets and uses this knowledge to create value for the landowner with each saw cut."
Outstanding Industry Partners
Beyond their logging practices, Brian and Stan were recognized for their outreach to students, legislators, and the general public in support of forested working lands.
In February of 2018, Lafoe opened a job site to students at the North Country Career Center to offer students real-world experience in logging. The students were invited to load logs using Lafoe's forwarder; see a harvester in action; and discuss costs, upkeep, maintenance, and the pros and cons of different types of equipment.
"Their job site became an integral part of the spring class curriculum and was the highlight for many of the students," said Orleans County Forester Jared Nunery. "Brian and Stan were always willing to slow down and explain what they were doing and why, especially to local students."
Lafoe also opened the site up to the public, offering tours to educate and bring awareness to responsible forest management, harvesting, and processing — something forest industry professionals in Vermont agree is critical to moving past outdated perceptions of logging. Brian and Stan went one step further in their advocacy for working forests by going to Montpelier to meet with state legislators and the Governor, something Fife notes that "most people, let alone loggers, never do."
"Lafoe Logging is extraordinary in their outreach to students, landowners, legislators, and the public to bring awareness about the benefits of good forest management, and their commitment to seeing a future in our industry for young people," said Colleen Goodridge, president of Goodridge Lumber and vice president of the Vermont Forest Products Association.
Please join us in congratulating Brian and Stan on their outstanding contributions to Vermont's forest products industry!
Lead Photo: Stan Parker talks with his father-in-law, Brian Lafoe, at a logging site in Duxbury, Vermont. Last year, Lafoe Logging was named "Northeast Region Outstanding Logger" by The Forest Resources Association in Washington, DC. Photo by Erica Houskeeper.
About the Vermont Forest Industry Network
Vermont's forest products industry generates an annual economic output of $1.4 billion and supports 10,500 jobs in forestry, logging, processing, specialty woodworking, construction, and wood heating. Forest-based recreation adds an additional $1.9 billion and 10,000 jobs to Vermont's economy. The Vermont Forest Industry Network creates the space for industry professionals from across the entire supply chain and trade association partners throughout the state to build stronger relationships and collaboration throughout the industry, including helping to promote new and existing markets for Vermont wood products, from high-quality furniture to construction material to thermal biomass products such as chips and pellets. Learn more or join at www.vsjf.org.
For COVID-19 updates from the Vermont Department of Forests, Parks and Recreation, please visit FPR COVID-19 Response.