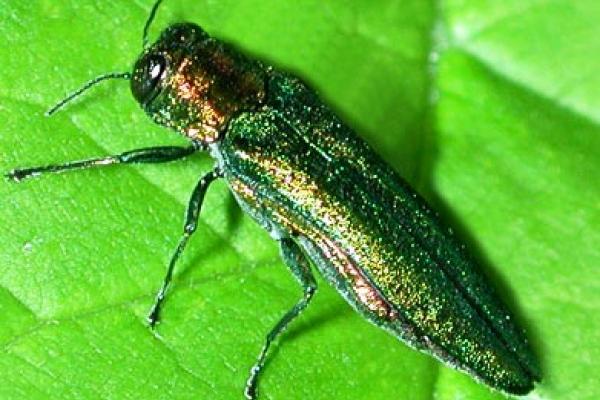 EAB Detections
There have been new detections of EAB in Vermont that have expanded the infested areas within Bennington, Caledonia, Lamoille, and Washington counties. These new detections were discovered through seasonal monitoring for the presence of EAB using purple traps and trap trees. Because the EAB flight season has ended, we have concluded our surveying efforts for this year. We are thankful to all the volunteer Forest Pest First Detectors who assisted in these efforts. In total, 114 purple traps and 37 trap trees were surveyed with the help of 44 volunteer Detectors.
New Towns in the Confirmed Infested Area: Bennington, Peacham, Cabot, and Woodbury
New Towns in the High Risk Area: Danville, Hardwick, Elmore, and Walden
Confirmed Infested Areas are within 5 miles of a known infestation. While symptoms may not be obvious, EAB is likely to be present in much of this area. High Risk Areas extend 5 miles from the outer edge of a Confirmed Infested Area. EAB is likely expanding into and present in some of this area.
Forest landowners, homeowners, foresters, logging contractors, municipalities, and utilities in the infested area should evaluate the options available to them to protect ash trees and immediately implement Vermont's  
Slow-the-Spread recommendations.
If you have questions about managing ash in your woodlot or around your home, or need Use Value Appraisal guidance, check out the resources available at 
VTinvasives.org.