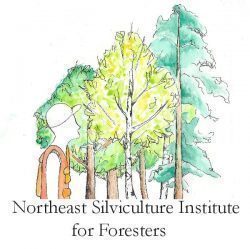 Northeast Silviculture Institute Online is Here; 25% Discount for VWA members!
Get Forester Credits without going to meetings or field training
The Northeast Silviculture Institute Online version is now available for VWA members at a 25% discount from the list price of accessing the training materials (discount price is $59.25 for each two-day session instead of the list price of $79). This offer expires in August 2020.
Now, in the comfort of your home or office, you can virtually attend one or all 5 of the 2-day Institute training sessions of the Silviculture Institute. Thanks to all the speakers and attendees for allowing everything – including every field trip stop – to be filmed. Now you can experience the tremendous silvicultural learning opportunity that is available at Institute offerings.
The Institute is a series of 5 two-day graduate level training sessions that were held in 2017 and 2018 for foresters all over the Northeast. Each session and all the field stops as well as classroom training was filmed, and now SAF foresters can get access to it at a 40% discount. This is the premier silviculture training offered in the Northeast in decades. Forester credits are available for all the sessions – instructions online.
Here's what one Online Institute user said:
 This is great. I can do the training at my own pace, when I have time. The written materials and videos capture everything like I was at the training. I've never done training this way before, and I highly recommend it."