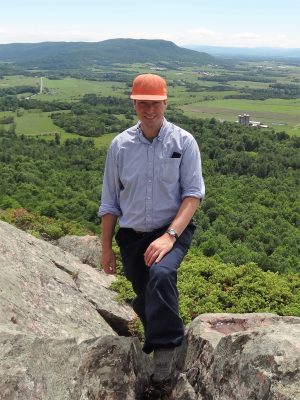 Servicing Diverse Needs: Harris Roen and Long Meadow Resource Management
Harris Roen is a licensed consulting forester from Burlington. He is the founder and forester of Long Meadow Resource Management LLC, and has been servicing northern Vermont forests for almost 30 years.
Harris has always been a lover of the outdoors, and when entering college he knew he wanted a career that involved working outside. Attending the University of Vermont in the early 1980s, he enrolled in their forestry program. He knew that forestry was one of the tougher degrees. Harris wanted to start there so that if it did not work out, he could fall back to another
environmental course of study. He was up to the task, however, and completed the forestry degree. Later on, he also earned a master's degree in resource management and administration from Antioch New England. After his schooling, Harris started his career in work involving Parks and Recreation, but eventually he made his way back to forestry. In 1994 he began LMRM
and he has been at it ever since.
LMRM serves landowners who want to manage their woodlands and other land holdings in a careful and responsible manner. To accomplish this, Harris offers a wide range of services to clients. Much of his work involves land enrolled in the Current Use program, such as taking inventory of forests and writing management plans for landowners. Property map-making and boundary delineations are also common services for him. For those interested in using their land
for timber, LMRM offers timber management and valuation services, and can help forests become Tree Farm certified. He can help landowners who want their forests to have a wildlife or recreation focus through services like natural community mapping. Harris is a NRCS Technical Service Provider as well.
With a wide range of services offered, Harris manages the land of a diverse range of clients. The holdings of his 70+ clients amount to over 10,600 acres, each with its own specific goals and needs. Harris manages everything from small, family parcels of a few acres to large organizations or group owners that own several hundred. His largest client is the Green
Mountain Club and its thousands of acres adjacent to the Long Trail. Harris also occasionally does work for municipalities and their properties. His willingness and ability to work with many types of landowner is a trait that he considers to be a main strength of his business. Servicing such a wide range of clients, Harris is adept at knowing what each client wants
and coming up with a plan to achieve it. Gaining understanding with landowners is what guides him in his work. He wants a close relationship with landowners so he can picture their vision for the property and then apply his expertise to that vision to bring it into fruition. A good understanding of the landowners, their goals, and their land's features also helps him know
whether their goals are feasible with their particular parcel.
Through the years Harris has also become well-versed in what he called "non-traditional management" meaning landowners have very specific goals or focuses. This could be building a plan around a particular botanical or wildlife community they want to protect, for example. Carbon capture and the sale of carbon credits are other non-traditional desires of landowners he mentioned.
When it comes to challenges of the job, Harris spoke of shorter and milder winters as a difficulty. In more recent years, winter weather has not lasted as long as it did in years past. Additionally, the overall temperatures have not been as cold. Harris explained that this makes it difficult for loggers to work in areas that are wet or sensitive to soil erosion. Most logging is done in the winter because it is easier for loggers to get in and out of the areas that would be too wet in the summer. Good winter conditions with frozen ground and snow cover, leaves less of a disturbance on the soil beneath. Shorter winters with milder temperatures lead to a truncated work season for loggers, forming non-ideal conditions for their work. It also means that consulting foresters working with the loggers have to work in a shorter time frame. This creates a greater likelihood of having to deal with adverse effects of the logging.
Harris also emphasized the fact that consulting foresters work for the landowner, so they have their interests in mind. When a landowner wants to do a harvest, consulting foresters are instrumental in determining the value of what is left after a logging project. For example, a forester will help make sure ruts are smoothed out and the log landing area is tidied up after
logging is complete. They also implement the management plan so that the area's vegetation and other features are maintained and enhanced after a logging project.
Harris has been involved in the VWA for many years. In the 1990s he was a part of the organization Consulting Foresters of Association of Vermont which eventually became part of VWA. He attends meetings now and then, but his main involvement is representing the VWA as a member of the NRCD state technical committee. This group advises and monitors NRCD's
cost share programs. Harris is also a Planning Commissioner for the City of Burlington, and is the Treasurer of Renewable Energy Vermont (REV).
To find out more about Harris and his work, check out his website at www.roen.net.